Ted Barnes
A review of his album 'Short Scenes'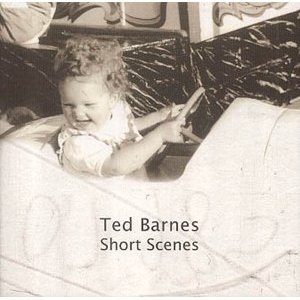 'You cannot live on in the past / so don't look back' sang John Lee Hooker, Van Morrison and innumerable others since the inception of popular music. We all play the movies of our past in our minds - Ted Barnes does, and with 'Short Scenes' he has realised the soundtrack.

Barnes' day-job is that of chief guitarist (and sound-smith, by the looks of things) in Beth Orton's current band. From the evidence presented on this, his debut solo release, it's clear that he's responsible for much of the trademark Orton sound - the ethereal backings, the almost choral edge to her studio recordings have much in common with the 13 tracks Barnes himself has now released.

As one would expect, this is often instrumental music. Its roots, in tempo and melody, owe much to fairground music. The backing samples (programmed by Dubliner Oisin Lunny) evoke memories of merry-go-rounds, the faded ambience of the carnival - organ soundtracks played to silent movies.

Much of the music feels quintessentially English. 'The Incident' and 'The Ghost of Morecambe Pier', both instrumental tracks, produce the feel of childhood Sundays at grey seaside resorts. The diminutive trombone of the latter track comes straight from a afternoon seafront hotel lounge. This is the heyday of acts like Mike Daniels' Delta Jazzmen, scarcely remembered.

Songs like 'Toy Makers Son' and 'Toy Piano Trip Up' serve to emphasise this feeling of the distance of childhood, the time gone since we lost our innocence. These songs are old photographs, composed on the frayed edges of memory, chance recollections. The fact that the one cover on the album is Carole King's 'So Far Away', a paean to lost friendships and forgotten ties, serves to copper-fasten this mood.

So, with the exception of 'Ted's Waltz', a contemporary love song on which Beth Orton herself takes the vocal lead, there is little sense of the present on this record. Even those songs which depart most radically in style from the mood of the album, 'Parisian Shuffle' and 'Crooked Fable', are themselves stylistically rooted in the past, recalling the loose feel of Django Rheinhardt, and the various European 'Hot Club' quintets that last played fifty years ago.

This is where the problem with this recording lies. This is music, exquisitely played, subtly conceived, but somehow it all seems part of someone else's dream. The listener thumbs through a stranger's photo collection, and hears unrecognised voices, sees unfamiliar places. On occasion, the music falls short of the connection Barnes is striving to make.

All in all though, this could be perceived as harsh criticism. Ted Barnes has released a debut album containing some fine songwriting. If at times it seems a little too sad, too hung up on the past, maybe that's because most people are. And if they need a soundtrack for their recollections, 'Short Scenes' may be just that.

'Short Scenes' is released on the 'Narwhal Recordings' label