Susan McKeown & the Chanting House
A review of her album 'Prophecy'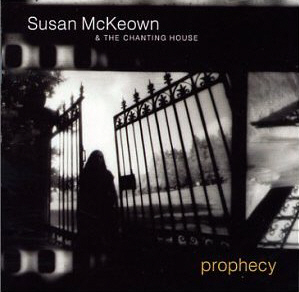 Following on from the critically acclaimed "Lowlands", Susan McKeown is back with a new release "Prophecy". Dublin-born, American-based McKeown has always been traditional by nature, but she's experimenting here as the traditional music often plays second fiddle to a bolder, more acoustic rock sound. The sound is much more diversified than before and the lyrics are inherently dark and often wistful. Alternating between foot-tapping melody and gothic ballads, McKeown deals with heritage, religious faith and personal loss. Yet in a contradictive way, the album exposes feeling of a positive nature propelled by her delicate yet strong vocals.

"River" is similar in style to Dolores Keane with a pumped up rhythm. This track along with "South" clearly shows that she's evidently proud of her Irish roots and the "Ballinaboula" is as traditionally Irish as its title suggests (with lyrics dealing with Celtic influences, witches, devils and the like, with pipes and a string arrangement playing their part).

The songs on the album jump from one varied sound to another as a range of instruments are used, and yet it's performed with the same inimitable style. "What Did I Ever Do To You?" is a bluesy effort, again with those dark, sometimes bitter lyrics, "And I wonder and I ought to / Just how easily they bought you" and it even utilises a kicking electric guitar solo and organ riffs the Doors would be proud of. In another form, the opening track "Be Brave Be Strong" sounds almost reggae-ish at first, backed up with an excellent combination of trumpet and fiddle scores.

"Because I Could Not Stop For Death" is one of the most intriguing tracks on the record and is unquestionably a highlight. The lyrics of the song are actually an excerpt from the writings of Emily Dickinson. Natalie Merchant provides an excellent vocal with McKeown, and their combined talents collaborate perfectly with a distant bass & cello combination. Similarly, the albums' namesake "Prophecy" has lyrics inspired by WB Yeats, sung in a haunting and convincing fashion.

Along with lyrics inspired by some of the great writers, McKeown's own song-writing ability cannot be ignored and "Wheels of The World" demonstrates this: "And the wheels of the world won't stop for you to give us your reaction". In the very heartfelt "Seven Cold Glories", she pays tribute to a lost loved one providing a provocative hybrid between the desperation of loss and the faith she's left with ("There's a God out there / I wish it was mine"). One of the album's darkest moments, "Chances Are" is performed with a bass solo as laden as its lyrics: "This heart is tattered and torn / Got to wring it free of this bitterness and scorn". A disturbing lyric, yet atypical of the album's message, the struggle and eventual victory.

McKeown's inventive techniques have presented an album that is as compelling as it is diverse. She has successfully crossed genres here and the album is performed with an artistic excellence and with honest conviction, and it is sure to broaden her horizons. In that sense, "Prophecy" is indeed a prophetic album.
Jimmy Murphy