Superchunk
A review of their album 'Here's To Shutting Up'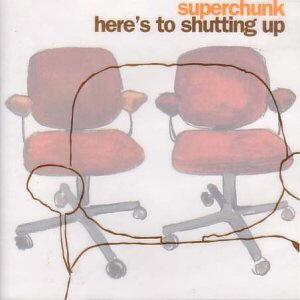 Anyone who has followed the career of North Carolina indie darlings Superchunk remembers their early-90s punk-rock heyday. Their blistering, irresistibly catchy 1991 album "No Pocky For Kitty" could certainly have given rise to another Nirvana-like phenomenon. Given the voracious appetite in the "Nevermind" era for all things punk rock (especially among record companies), Superchunk could well have signed a fat major-label contract for a big pile of money, released one or two hotly-hyped albums, and then quickly become one of the dozens of corpses of would-be grunge outfits that littered the mid-90s musical landscape. Anyone remember Helmet? Candlebox? Nudeswirl? Thought not. Fortunately, Superchunk resisted the siren call of instant superstardom and remained on their own label, effectively immunizing themselves against sell-out accusations. Throughout the 90s they quietly self-released their records to a small but fervent following. Anyone think this is the way music is supposed be done? Me too.
Superchunk clearly reached a point a few years back where they had to choose one of two approaches to continuing: 1. Take the AC/DC approach of making exactly the same record over and over again, well into old age, and keeping the same old head-banging fans happy, or 2. Mature along with their audience, make the records they want to make, and run the risk of pissing off a few old-school diehards. Thankfully, Superchunk chose the latter approach, and it is now paying off in spades. They floundered a bit in the mid-90s, but they've been picking up renewed steam ever since. 1999's "Come Pick Me Up" was a nice return to form. 2001 brings us the Brian Paulson-produced "Here's To Shutting Up," a more subtle yet very engaging work. On this album they do indeed shut up, a little.
Superchunk self-mockingly named their music publishing company All The Songs Sound The Same Music, but this is really no longer the case. "Here's To Shutting Up" is their most eclectic disc yet. Singer Mac McCaughan spent some time on the road last year with the newly damped-down Yo La Tengo, and their influence is abundant here. Organ, synths, and brushed drums now predominate. Pedal steel and harmonica work their way into the quiet, charming "Phone Sex." Cellos or violins appear on half the songs. The final two tracks, "What Do You Look Forward To?" and "Drool Collection," are very YLT-like. The album's leadoff track and first single is "Late-Century Dream," a blissfully sad, organ- and violin-based tune. Much has been made of McCaughan's "falsetto," but he's hardly Frankie Valli, or even Geddy Lee. In punk rock days of yore, McCaughan's yowl lent itself perfectly to the band's hopped-up tempos; now it lends itself equally well to their new, calmer approach. The diehards will hate this album; everyone else can feel free to dive in.
Fear not, pogo lovers, Superchunk can still rock. "Art Class" and "Rainy Streets" both kick ass, and Superchunk remain a ferociously exciting live act, never to be missed. Their tour makes stops in Belfast on 19 October and 'Club Mono' in Dublin on 20 October. Be sure to catch them!
Chris Houlihan

To buy a new or (very reasonably priced) 2nd hand copy of this album on Amazon just click here.