Stephen Hero
A review of his album 'Lullaby'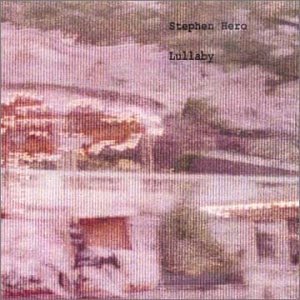 Stephen Hero is actually Patrick Fitzgerald, the former singer/bassist with Kitchens of Distinction. Unable to use his own name due to legal reasons, he adopted his current moniker from the title of the first draft of James Joyce's 'Portrait of a Young Man'. Entirely written and recorded in the deepest reaches of Connemara in western Ireland, Lullaby is Patrick's second self-contained mini-album as a solo artist.
After an overdose of daytime radio, Lullaby came into my life like a breath of fresh air - fresh dark night air that is. The perfect backdrop for listening to Lullaby's six songs is dusk when one can feel the dark progressing in on them but cannot yet fully feel the fear because the beauty of the light has not yet faded.
The opening vignette, 'Lullaby for a Broken Dog' is simple piano tinklings and a man's spoken words over the hiss and pop of a needle on an old record. Like a short Grimm's fairytale before bedtime read by your father, it seems meant to send one on their journey into slumber. The gorgeous opening guitar to the majestic 'Hamlet was a Prince' soon has one curling up to enjoy a nap. Reminiscent of Pink Floyd's Dark Side of the Moon, this is actually the dark side of Stephen. With the lyrics "It haunts you / You beg to be released" and the repetitive "Try to sleep here tonight" it's like a mental fight between slipping into sleep and grasping for lucidity.
The opening vocals and guitar of 'Venus Slipped' sound like R.E.M., but the song seems to be R.E.M. of a different kind - Rapid Ear Movement. It's easy to get lost is this song's soft, luscious soundscapes, but one constantly fears that something is amiss and ears are pealed for the slightest hint of unsettling lyrics hiding in the musical undergrowth. 'Night Fairy Guide' is pure pleasure as it slips by, but again one notices that the lyrics are leading into "dark slumber" which soon comes in the form of 'I Know Who is Sick'. This song is like the loud bump in the night that jolts one awake in utter fear. With its title nicked from a traditional Irish song, the highly disturbing lyrics seem to stem either from one's own conscious, a sinister Santa Claus, or a ghostly apparition in the corner of the bedroom.

The album concludes with passionate and powerful 'Feed Me on the Banks of the River Nile Afterlife'. Like Connemara where it was written, this song is a rugged beauty with its searing guitars and searching lyrics such as "The footsteps on the creaky boards / Is he coming with my sleep?" It's soon obvious that this deals with slumber of the eternal kind. The album ends like life itself.

With their haunting underbellies, these lullabies might not lull you to sleep, but they won't let you say "bye" either. Clocking in at only 25 minutes, you're left wanting more. It's time to let the CD go 'round again like the carousel on the album's cover.
Barbara Lindberg

Lullaby will be released on 21st May on Ragoora Records distributed through Universal.


For more information and downloads check out www.stephenhero.co.uk