Kristin Hersh
A review of the album 'Sky Motel'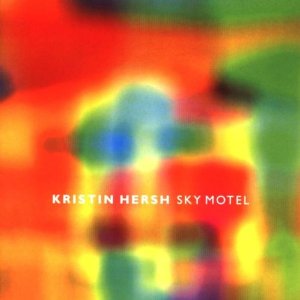 'Sky Motel' is the fourth offering from Ms. Hersh and represents a more upbeat collection than her previous work. The opening bars of "Echo" quickly establish a departure from the broodiness of "Hips and Makers". Lilting lounge-sounds swirl around bongos and there is a girlish laugh from Hersh herself. There are still flashes of opaque darkness throughout the album. The guitars on "White Trash Moon" and "Cathedral Heat" smack slightly of early '80's goth, and both songs demonstrate her fondness for storytelling displayed on an earlier collection, "Murder, Mystery and then Goodnight".
The album evokes a variety of places and feelings from the arid, desert evocations of "Hush" to the unnamed extra track with its beautiful piano sounds reminiscent of water and stillness. Hersh sings of Costa Rica and San Francisco employing an eerie vocal effect on the latter. "Fog" is chunky thrash pop and "A Cleaner Light" is similar though with darker lyrical undertones, "I wake up feeling fragile/It's nothing the TV couldn't cure/Or lying here for my whole life".
The mood of "Sky Motel" is somewhat carnivalesque, but overall it swoops up and down and will probably be a grower. Some of the best tunes appear towards the end of the album like "Clay Feet" which has a stomping bassline meshed under shrieking guitars. "Faith" is a musical gem, with swirls of strings under military drums.
All in all "Sky Motel" is a multi-layered, magical piece reminiscent of Spiritualized. It is not of the same calibre as "Hips and Makers" but is, nonetheless, an interesting, refreshing piece of work from the 4AD lady.
Sinead Gleeson