Saville
A review of their album 'Somnambular Ballads'
Dublin's melody makers are back on the scene with a follow-up album to their debut "Is Anyone Happier Today", released in 2000. They have produced an album that gives pop back its good name, not in the synthetic Westlife style but pop in the true tradition of The Beatles, The Who or Divine Comedy. While bands like The Frames, Bell X1, Snow Patrol vie for a place in the indie rock stable, Saville, Dublin's answer to Prefab Sprout or Supergrass bring their melodies to a country obviously not tired of quality pop music, as seen by the success of The Thrills.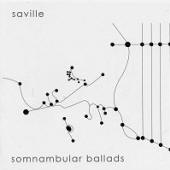 'Somnambular Ballads' opens with the summer sun of "I've lost touch with the world" and flows into the shimmering 'Circling the Sun' starts out with tambourine, light guitar riffs and finishes up with a big band sound using all the instruments at their disposal. The title track 'Somnambular Ballads' with its deep piano chords and backing vocals sounds like it was influenced by the Neil Hannon school of music making, but the song is let down by the weak lyrics of "I want you green / I want you green" with the last few lines sung in Spanish, which is distracting. 'Morpheus' however brings back the blissful harmonies and simple pop lyrics.

The opening sounds on 'What's on my mind' echo the Beatles and psychedelic pop with synthesisers giving an otherworldly sound to it, though it becomes a little monotonous. 'My Saving Grace' lets the album sway a little towards the twee, the song finishing with children singing "magical man in his magical van", it's just a little bit too saccharine for my taste. Gentle notes open 'The end of the Affair' softly, before trumpets and pedal steel guitar are added to build up the sound.

The tempo changes to a faster pace on 'Friday Night song', one of the standout tracks on the album, before slowing down again with 'There's no getting over you', a song that would sound at home on the 60's style TV show 'Heartbeat' which sounds a little dated or comfortingly familiar depending on your taste in music.

'City of Engineer' an ode to Dublin city is the penultimate track and once again highlights the quality of Saville's song writing. Overall I think the album could have been pared down to produce a slicker package, with a few of the songs left by the wayside. However the sparsely illustrated, professional CD design and polished sound signal a group eager to move out beyond the limits of the Irish Scene. And for fans of the bands mentioned above (with perhaps the exception of Westlife) it's worth investing in.

'Somnambular Ballads' is released on Reekus records.