Rodrigo y Gabriela
A review of their album 'Re-Foc'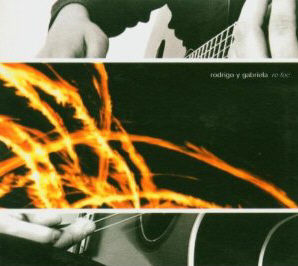 Frankly this reviewer was rather sceptical of "Re-Foc" before even pressing the play button. The sound of Spanish guitars has often been the source of irritation for me. Gruesome "Latin" pop singers have continually used it in their MTV-drivel. Although in all fairness, these "stars" stray far away from the authentic sounds of Latin America. However, the only other times I seem to hear it are in top-notch eateries (which isn't often for me!), alongside the awful strains of the pan pipe; or even worse when some busker lashes out Spanish guitar versions of "Stairway to Heaven" and the likes.
Yet, should I really have been worried about Rodrigo y Gabriela? After all, they thankfully don't fit into any of the above three categories above. The pair learned their trade in their native Mexico, before arriving in Dublin via a sojourn in Europe. Saying that these two are fairly adept at playing the guitar is like saying that Alan Shearer can score a goal or two. Also, claiming that they are simply a Spanish guitar duo is badly informed. Listens to "Re-Foc" give hints that RyG once graced the stage as a heavy metal outfit (opening track "Diem" is dedicated to Megadeth's Dave Mustaine!) "30 de Marzo" starts a bit like Mogwai, before moving down more of a folk avenue. Elements of jazz are also liberally spread across the album. Considering that this was recorded in a flat on a mobile studio, the sound quality is fantastic, with particular emphasis obviously paid to their nylon strings. It helps that they have a quality support cast involved. Drafting in Zo?Conway of the Irish Chamber Orchestra on violin was indeed a trump card, as she delivers a terrific performance throughout. Also, Lisa Hannigan delivers some lovely backing vocals on the only non-instrumental track "New One".
Rodrigo y Gabriela haven't made a Spanish guitar record per se. What they have done is add some of their native styling to a number of genres. All in all, this record proved to be a bit of a grower, with its eight tracks gradually creeping up on you after a few listens. Indeed, I shouldn't have been worried.
Ciaran Ryan

For more info visit Rodrigo y Gabriela's website www.rodgab.com