Reindeer Section
A review of their album 'Y'all Get Scared Now, Ya Hear!'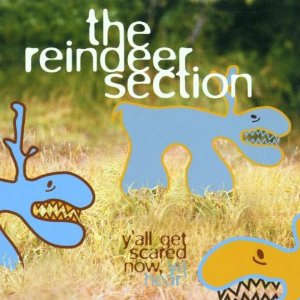 On paper, The Reindeer Section read like they're going to sound majestic. A collective led by Snowpatrol's Gary Lightbody and comprised of assorted members of Mogwai, Belle & Sebastian, Arab Strap, Mull Historical Society and Astrid amongst others you'd expect them to be at the very least an innovative step into the unknown. Sadly, this is not the case. All we get is the sort of half hearted melancholic strumming and brushed drums that seems unique to Scottish indie, and in particular the Jeepster record label.
"Y'all Get Scared Now, Ya Hear!" is the brainchild of Snowpatrol's Gary Lightbody (currently without a label following their "departure" from the aforementioned Jeepster) who dreamt up the concept of getting some of Glasgow's finest together for ten days in the studio. "Everyone thought it was a great idea" says the Snowpatrol frontman, "but I'm sure they were thinking 'Aye right Gary, whatever' and that I'd forget about it when I had sobered up. In fact the next day I wrote the complete album."
Sadly his last point shows, for "Y'all Get Scared Now, Ya Hear!" is, unfortunately, a hash of an album. What might have been comes about nine songs in with the crisp "Raindrop" which starts a brief chain of great songs. "Sting" is the best thing on the album, a dreamy and hypnotic four and a half minutes that recalls both James' "Sound" and My Bloody Valentine. It's given a run for the money in the "best thing on the album" stakes by the looped vocals and crashing guitar of "Tout Le Monde". But three great songs do not a classic album make and with even the most casual of listener they register as too little too late.
Great bedtime listening though... zzzzz.
R Casey

Y'all Get Scared Now, Ya Hear!' is released on Bright Star Recordings