Regular Fries
A review of their album 'War On Plastic Plants'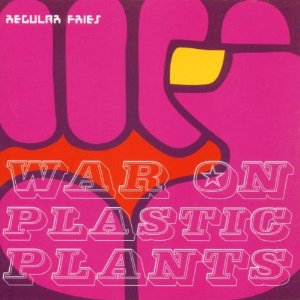 If you want to try and categorise this UK band then your best bet is to imagine the Happy Mondays, Flowered Up, The Beta Band, Black Grape, Hawkwind, Death In Vegas, Lo-Fidelity Allstars, The Flaming Lips, Cornelius and Primal Scream crossed with Super Furry Animals and combine all that with a hell of a lot of drugs and a bottle or two of Buckfast before adding in now and then the drummer of any one of a dozen heavy metal bands, chiefly the Melvins. Got a picture in your mind? Probably not. Anyway, Regular Fries also wish that they were black... And they're good, honest. Not great mind, but good. A crack production team of Dave Fridmann (Mogwai, Mercury Rev, Wheat, Flaming Lips), Steve Dub (Chemical Brothers) and Jagz Kooner have somehow been roped in to create a sound from the menagerie of styles on offer with this seven piece band of hatstand musicians and oddball vocalist.
At times a glorious sound is produced. The sleazy bass led 'Hells Angle' is as fine a sound as you're going to get from a band whose roots were in baggy but now encompass a whole lot more. "...the night is your doctor / it'll cure you if you ever put it to the test" sings Dave Brothwell over a beautiful guitar line from the deepest bowels of Harlem. "Come down any time / let's see you dancing in your bones" the mystifying coda at the end. It gets even weirder than that. Recent single 'Supersonic Waves (Coke and Smoke)' featuring Kool Keith features the Kooler rapping about everything from Russian activity in the city to doctors watching VHS data to Yugoslavia over the dirtiest beats this side of David Holmes 'Bow Down To The Exit Sign'. Now and again moments of genuine feeling and charm glide through. Fridmann produces a beautifully intoxicating mix of funk and mellow doubt on 'Radio Virus' and 'Eclipse' but album closer 'Last Horizon' spoils all this with its poor-man's Hawkwind sci-fi space rock 'coming home after a space mission' codswallop.
'Africa Take Me Back' confirms the bands African desires with some dire lyrics over a supreme backing. These are the weak moments that confirm Regular Fries need to get away from the drugs every now and again. Other than that though, the aforementioned Fridmann tracks, the barnstorming Black Grape-esque 'High As The Music' (an undisputed single if ever there was one), the wonderfully out there techno-meets-space rock shenanigans of 'Blown A Fuse' and the stoner-pissed-in-a-cocktail lounge groove of the instrumental 'Voodoo' signify that Regular Fries have that little something. 'High As The Music' in particular is a peak of greatness. A chorus that Shaun Ryder would die for ("gonna get you high / as the music") combined with a speaker chasing backline of pop-grace and rhythmic wealth, the song is one of the finest things on the 'War On Plastic Plants'.
Dance label, and home to Underworld, Junior Boys Own must have thought there was something good about them to sign them and on this showing their risk nearly works. Regular Fries are probably a fantastic live band, on record they nearly cut the mustard, but the real salt and vinegar treat would be to catch them live. Still, 'War On Plastic Plants' is not a bad effort and worth investigating if you fancy a gloriously out-there meeting of musical styles with an eye on the funk.
Ronan Casey

To buy a new or (very reasonably priced) 2nd hand copy of this album on Amazon just click here.