Radiohead
A review of their 2000 album 'Kid A'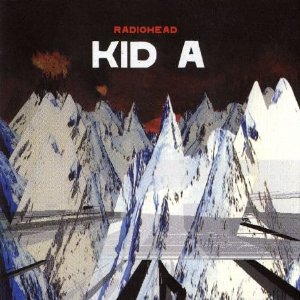 So much has been written about this album, Radiohead's forth, that there is little point in adding to the slew of column inches that have accompanied its release. The best advice that can be given is to see for yourself. Everyone is different, everyone's tastes vary and no amount of words will sway what people think of certain things. If the Sun were to tell you that potatoes were evil would you stop eating them? Would you push away your dinner plate and eat a banana? For what it's worth though, Kid A is a great album. Not a full-blown masterpiece that this band will undoubtedly one day create, but it's nearly there. So much has been said that it contains no "songs". Well, in that case what is a song? Something like a Britney Spears smash hit? A Travis single? A 20 minute Pink Floyd odyssey? Bollocks. There are 10 songs here. Each as different as you can get, each a slice of bewildering genius teetering on the edge.
Opening in retro 70's keyboard style with 'Everything In It's Right Place', the first indication that this is not your regular album appears with Thom Yorke's gurgled vocals. Singing about sucking lemons may not be everyone's cup of tea, but it makes for an interesting album opener. If Syd Barrett were still making music today, this is what would be happening. The title track comes next with its much-vaunted backward vocal. But the real surprise here is the almost Bodhran beat that guides it. Darkly hidden in the mix it's a revelation among the sombre keyboards and tinkling bells. It's closing drone a signal of things of things to come. 'The National Anthem' is a grade A driving brass funk workout that on early listening stands out as an obvious highlight, possibly due to the repetition of the bass and the fact that it nearly sounds like the Radiohead of the overrated PMT (Pre Millennium Tension) of OK Computer. Then comes the first glimmer of a guitar with the ballad 'How To Disappear Completely'. Written largely in response to their 40,000 sell out gig (The Longest Day with Massive Attack and Teenage Fanclub on June 21st, 1997 fact fans) at the RDS, Dublin it gives an early indication that all was not well in the Yorke psyche. Even so, it's a beautiful song. In the unusual ballad stakes it's up there with 'Summer '68' or 'If' from Pink Floyd's 'Atom Heart Mother', or even their work on the Zabriske Point soundtrack.
The Pink Floyd influence has always been levelled at Radiohead and although they may not be an influence as such on the band, there's an undeniable pre- The Wall Floyd feel to proceedings So far so good, so different, so tempting even. 'Treefinger' is an eerie instrumental where Radiohead come across all Brian Eno on us. Best appreciated on a foggy night while lost on the roads it steers Kid A into territory marked unexplored. That sense of danger arrives in superb style with 'Optimistic'. A gem of a track, its lightly strummed minor chords recall everyone from Dinosaur JR to Jesus and Mary Chain to Monster Magnet to Iron Butterfly to Teenage Fanclub to, sweet Jesus, Bon Jovi with the "wooh-ohhs" spread sporadically throughout. Optimistic is an undeniable moment of greatness. The coda at the end where an almost funky workout leads to a splendid two plus minutes of Can like experimentation amid "you're living in a fantasy" chants and a chilling wail is the sound that defines Radiohead 2000. Then the babbling 'Idioteque' spoils things momentarily, before the album closes with the off kilter, confusion ridden and deliberately mistake laden 'Morning Bell' and the fantastic 'Motion Picture Soundtrack'. The latter drawls off into silence before re-emerging a gleaming shining harp laden beauty that again recalls Pink Floyd's 'Atom Heart Mother'.
Radiohead probably want to be remembered as a sort of a Pink-Floyd-in-their-prime type band. One which embraces new studio techniques and sound as well as a sense of isolating fans and foes alike. There never was a need for Radiohead to emulate what they had done before as, at the moment, there is a slew of bands doing just that for them (Muse, Coldplay et al, even Placebo for Chrissakes). They are experimenting on a grand scale, creating a soundscape and a version of a band as, well, a band. The kind of one that experiments together stays together. Or maybe not as time may tell. Much of the press that has been directed at this experimentalism points out that U2 did theirs as 'Passengers'. Pink Floyd retreated to soundtrack work to hone their skills before releasing 'Atom Heart Mother' and 'Meddle'. Well, Radiohead are taking a risk, a public eye one at that, and it nearly pays off.
The one gripe is that Thom Yorke is a great lyricist but here there's very few lines that will stick in the conscience. It may not be everyone's cup of tea and it won't be yielding any singles but in a world where U2 retreat, like Pink Floyd after Roger Waters departed, to a place of musical safety and innocuousness, you have to tip your hat at Radiohead for this bold statement of fiery musical intent.
Ronan Casey

To buy a copy of this album on Amazon just click here.