Prefab Sprout
A review of their album 'The Gunman and other stories'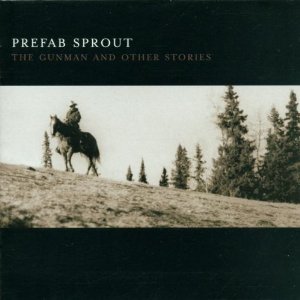 "When you get to know me better / you learn to love me less" sings Paddy McAloon on his new album, and on first listening, even Prefab Sprout fans will think he's never sang a truer word.
On 'The Gunman and Other Stories', Paddy McAloon rides into town accompanied only by his brother Martin and delivers a Country 'n' Western theme throughout (the other Sprout-laws are nowhere to be seen). The opening track and current single 'Cowboy Dreams' will sound familiar to most people having been a Top 20 hit for Jimmy Nail in 1995, yet while it's great to hear the original version here, Nail's version is superior.
We enter the Saloon for 'Wild Card In The Pack'. "King, Queen or Jack / love's the wild card in the pack" sings Paddy in excellent voice. The sound effects are included here with the shuffling of the pack, and I think Paddy just about wins this hand.
'I'm a Troubled Man' is one of the most delicious ballads Paddy will ever write. Included on last year's tour and previously only available in demo-version, this track has everything a slow song should have and is by far the highlight of the album. Other ballads appear in the form of 'The Streets of Laredo', 'Love Will Find Someone for You' and 'Blue Roses'.
On the radio friendly 'Cornfield Ablaze' Paddy sings about the harvest not being the most important thing in life. I found it hard to believe that a song that commences with the lyrics "I saw you from the tractor" could rock along so sweetly, but the flames are still burning long after this song has ended.
'When You Get to Know Me better' is another ballad that stands out and could possibly be a future single, while the title track 'The Gunman' fails to live up to expectation. Originally covered by Cher, this song starts with a spoken intro similar to 'Jordan the Comeback' but never really captures my full attention. Just when you think it's over, it starts up again and at twice the length of most McAloon compositions there's just too much here.
On the closing track 'Farmyard Cat', Paddy tries his hand at line dancing. This is so different than anything he has done in the past and you have to take your Stetson off to him. It's a hillbilly number that sounds like a cross between Rednex and Barney. The melody is catchy but the lyrics aren't: "I've got nine lives / and I rhyme with mat / I'm a farmyard cat, mi-mi-aow".
There are times while listening to this album that you feel Paddy is bluffing, but by the time all the cards are dealt, he somehow convinces me that once again he's holding a 'full house'.
Mick Lynch