Pony Club
A review of their album 'Home Truths'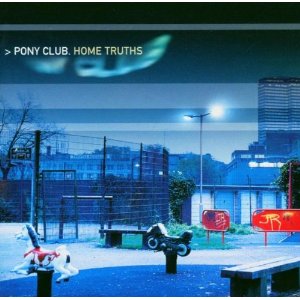 Mark Cullen, Pony Club's vocalist and lyricist, really is a mixed up boy trapped in a time warp - he looks like Talking Heads' Tina Weymouth, and he sounds uncannily like Howard Devoto (the chrome domed cyborg who led my fave art-new wavers Magazine to oblivion in the early 80s). Like Devoto, Cullen does not have the strongest or indeed the sweetest voice in the world. On "Home Truths", Pony Club's superb debut, Cullen's voice is not treated in any way or double tracked. Indeed, at different moments his vocals crack with the strain of it all but the blemishes only add to the overall effect. Sensibly, Cullen and the Pony Club stay fully aware of his and the band's limitations and keep the melodies and arrangements simple. As a result Cullen and the Pony Club sound both world weary and endearingly vulnerable.
If you want a reference point as to the territory covered on "Home Truths" check out a line belted out by the Specials c. 1979-"If this what happy marriage is I'd rather be unhappy" - most if not all of "Home Truths" deals with marital discord, the humdrum of trapped relationships and the grinding tedium of suburbia. It's dark stuff in the main, with songs featuring guest appearances by sleepless nights, prescription drugs, alcohol abuse and casual violence. The battle lines are drawn up straight away - on "F**k with my heart" Cullen croons that "Our fights start with you coming home" and on "Stop" he asks "How can I stop your mood swings / how can I stop you breaking things". "Millions like us" is a prolonged leer at smug marrieds - "Oh honey when you've had enough / let's take a drive / and listen to Shania Twain's best of". By the end of the album, "afternoon drinking", Cullen has resorted to the sauce in a big way, and you could hardly blame him-"There'll be some empty stools / in the company of fools".
I've painted a very gloomy picture here and on the face of the lyrics alone one would think "Home Truths" is a remake of Lou Reed's "Berlin". However Pony Club's real strengths, the real depth to their work, are their melodies. There are dud tracks here - "The thing about men" is a nondescript demi-instrumental featuring a woman's voice listlessly reciting, er, things about men. "CCTV", the album's worst moment, is an ill judged attempt at sounding like Suede, but everything else on "Home Truths" is decked out in sweet tunes that enhance the anger and ennui of the lyrics . "Single" is the album's top tune - I would guarantee that any band in any branch of pop or indie would die to write the melody featured on "Single", but when you factor in Cullen's yearning vocals and a lyric that drips with prozac laced indifference, you have a noughties classic.
The Pony Club in the most part are wilfully original, funny, melancholic, brooding, and deliciously sarcastic. While it's not an advertisement for happy marriage "Home Truths" is a high class piece of work, as good and as heartfelt an album by an Irish band as I have heard in years. Pop and rock are going through a major slump right now with full-on breadheads in the ascendancy. For months I've been dwelling on John Peels' throwaway line when he was quizzed about the Undertones' "Teenage Kicks" - he said he loved it so much because "Teenage Kicks" sounded like a record that simply had to be made - the same could truly be said of "Home Truths".