The Pogues
A review of their album 'Rum, Sodomy and The Lash'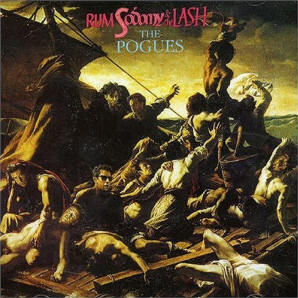 Review Snapshot:
The Pogues' 1985 classic is re-issued and it reaffirms the seminal status of this band and the astronomical effect they had on the music and ethos of the time. Without a shadow of a doubt we're reminded of one of the greatest events of the 80s.

The Cluas Verdict: 8 out of 10.

Full Review:
Winston Churchill's description of the British naval tradition being nothing but 'Rum, Sodomy and The Lash' gave this seminal work of brilliance its title. Voted the 445th best album of All Time by Rolling Stone, and 93rd Greatest British album ever by Q, The Pogues 1985 classic sees re-issue with anecdotal liner notes, 6 extra tracks, and a poem by Mr. Tom Waits.
Upon the HMS Belfast where the launch party was held for The Pogues' second album, the journos fought over the drinks, one writer ending up in the Thames, and the band played in Nelson-era navy uniforms, MacGowan in an admirable admiral's hat which never resurfaced after the gig? The album sleeve depicted an adaptation of Jean-Louis-Andr?Th?dore G?icault's 'The Raft of The Medusa' in which the faces have been replaced by those of the group, the production was handled (par excellence) by Elvis Costello and the songs stood out as some of the greatest pieces of quirky, folky music committed to tape. All this added up to 'Rum, Sodomy and The Lash', The Pogues' crowning wonder, a joy to listen to as much today as it was then, indestructible in the face of time.
Exploding with 'The Sickbed of Cuchulainn' this feast of gorgeous 'Celtic punk' gets underway without even a flinch of hesitation. It's brash, it's unabashed, unadulterated, in your face, and particularly good listening. The strength from the off doesn't wane one bit, it just keeps on kicking it out, the combination of MacGowan and O'Riordan's voices sounding certainly sublime.
The traditional numbers, such as 'I'm A Man You Don't Meet Everyday' and 'Jesse James', alongside the classic originals like 'Wild Cats of Kilkenny', 'A Pair of Brown Eyes' and 'Dirty Old Town' are perfect combinations and the set-up, running order and production of this album make it just one of the greatest and most enjoyable plates of music to be served in modern times.
A record that will never cease to delight, always a pleasure to hear and highly, highly recommended if you're not familiar with it already.

Daniel Bristow

Check out the CLUAS review of The Pogues live in Dublin in December 2001.