Perry Farrell
A review of his album 'Song Yet To Be Sung'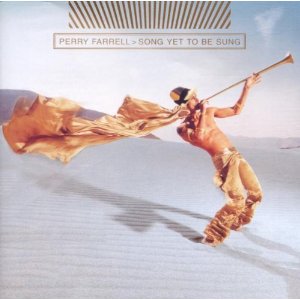 The acidic quirkiness of Jane's Addiction rolls up neatly into a parcel of time, circa mid-90's, when the North American music scene was healthy and vivid enough to support their camp chicanery. Perry Farrell has had his moments. From this record, however, we can conclude that he has also had his chips.
Imbued throughout with a precious awfulness suggestive of someone who has spent far too long in his own company, listening to a fine selection of Peters - from Gabriel and Frampton through to Tosh. Limp beats, pointless synth twiddlings, aimless guitar noodlings and excruciatingly tuneless vocals riding under a lyrical mélange of pretentious aphorisms, aspiring to profundity, such as:
'come down, come down Shekina / we'll engage eventually'
'the red heifer is here / and cousins of twelve tribes'
'from the heights of Zion / it's whispered in your ear.'
Lord help us!

Twelve tracks short of a full banana, and yet too self-conscious to fall into that curious canon of artistic indulgence that can best be described as 'the cult of personal insanity' - as characterised by our own Aidan Walsh.

'Song Yet To Be Sung'. You can say that again.
Carol Keogh