Paul O'Reilly
A review of his album 'First thing in the morning'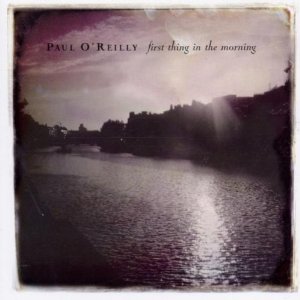 What's left to say about Paul O'Reilly that hasn't been said already? Well, a lot really. Although most active gig-goers around Dublin have probably encountered his hushed charms somewhere along their travels, until recently his press had been confined to the "by the ways" as he clocked up his stage-miles in support of the Glen Hansards, David Kitts and Steve Fanagans of this world. His unobtrusive lilting may once have put him in grave danger of being cast as the eternal-opener but now with the release of First Thing In The Morning, a gentle talent has been unmuzzled.
Opening track, Winter can best be described as a drifter - a soft, heavily-influenced effort that seemingly lends much to the community of songwriters among which he has had many a helping hand. Shades of Kitt are most apparent but yet as you listen further, certain subtleties, like the feint warbling on the beautiful Ties, begin to emerge. The album's laid-back pace is as constant as its leaning towards a picked guitar and only by the time you arrive at Pictures, the final track, does the pace change and the focus on picking cease. Albeit for a slower, more down in the dumps approach and the acute finger-stylings replaced by an unnerving percussion courtesy of collaborator, producer and mentor, Steve Fanagan. It is an intriguing finale that leaves you wanting more. No doubt, that was the plan but you feel there is more to the man that can not fully be appreciated over a mere eight songs.
Needless to say, there will be plenty of critics writing O'Reilly off as just another Nick Drake-a-like but something tells me that this young man from Swords will not take offence. What's lost in originality is made up for in quality. A confident step, if not a leap, out of the shadows.
Frank McNally

'First thing in the morning' is released on Volta Sounds


Check out the CLUAS review of Paul O'Reilly's first ever support slot back in August 1999