Paul McCartney
A review of his live album 'Back in the world'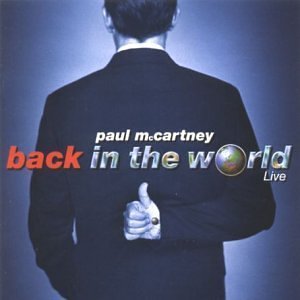 Originally released last year in the States with a slightly different track-listing 'Back In The World Live' is 36 tracks from Paul's Tour of North America last Autumn. Disc 1 opens with 'Hello Goodbye' and includes numerous Beatles favourites including 'All My Loving', 'Blackbird', 'You Never Give Me Your Money / Carry That Weight' and 'The Fool On The Hill'.
There are some solo numbers from his most recent 'Driving Rain' album - 'Lonely Road' and 'Your Loving Flame, a song he dedicates to wife Heather. He closes this disc with tributes to John and George. 'Here Today' is a pleasant song he wrote about John, and on 'Something' he plays the ukulele.
Disc 2 is once again swamped with Beatles tunes - 'Eleanor Rigby', 'Can't Buy Me Love', 'Let It Be' and 'Hey Jude' are included but it's the beautiful Flaming Pie track 'Calico Skies' (a version of the track already Paul previously recorded for the Warchild album 'Hope') that highlights this album.
It's not just Beatles songs on display here. He does cover some Wings numbers including 'Jet', 'Band On The Run' and 'My Love' to name but three. It's hard to rate this album as 'live' albums go, but I think most fans will appreciate it even more after they've witnessed his European Tour in Dublin or wherever.
Critics will claim, he's still feeding off his back catalogue of songs from the '60s and '70s, but why not - He did write 35 of the 36 songs on display here.
Mick Lynch

To buy a copy of this album on Amazon just click here