Pantera
A review of the album 'Reinventing the Steel'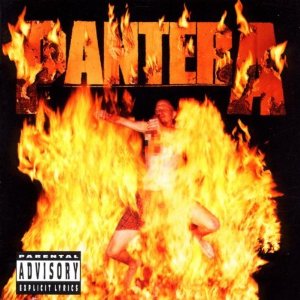 Well, for those of you who don't know who Pantera are, the name of their album should give you a fair idea of the genre of music they play. The Texan quartet are one of the biggest selling heavy bands of all time. They first came to notice with 1992's 'Vulgar Display Of Power'. Those of you who frequented metal bars will all be aware of songs like 'Walk' and 'This Love'.
Now, I reckon that that was the peak for them. The next two albums, 'Far Beyond Driven' and 'The Great Southern Trendkill' were more noise than anything else. Where 'Vulgar Display' had singer Phil Anselmo stretching his vocal chords from singing to screaming, the next two albums merely had him shouting and roaring. A lot. Now call me old fashioned, but that's not what I call music.
Well, it's safe to say that with their new album, 'Reinventing the Steel' (I love that title, it's just so... metal) they've gotten back to the sound that made them in the first place. This album is the one that should have followed 'Vulgar Display'. It's what the band has been capable of for so long. This is a powerful antidote to the type of bands who whine on about their pain all the time, or who go for shock value rather than song quality (I'm talking to you Korn and Marilyn Manson). From the opening riff of this album, through songs like 'Yesterday don't mean S**t' and 'Death Rattle' Pantera are just relentless.
As always, the musicianship is faultless. Dimebag Darrell can always be relied on to produce the goods on guitar, and the backline of Vinnie Paul and Rex is as tight as ever. Phil Anselmo's voice is back to the way it should be, going from a melodic part into a tonsil shredding scream in a split second. All in all, this is Pantera back to their best, and anyone who was a fan of 'Vulgar Display', should buy this album.
Eamonn Carey