Jimmy Page & the Black Crowes
A review of the album 'Live at the Greek'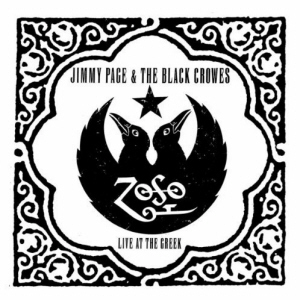 This record is, unquestionably, the best live album I have heard since Neil Young's pulverising 'Weld' in 1991. To hear Jimmy Page lock horns with some of the greatest riffs laid down on vinyl with one of the few, true rock'n'roll bands is a joy.
'Live At The Greek' is one of the biggest selling records on the Internet right now. But the chances are that you will never have heard of it. It's never had a commercial release. And it never will because of contractual difficulties with Sony/Columbia, the Crowes' record company. They obviously have never listened to it. Or they would realise that they are sitting on an absolute goldmine.
Chock full of Zep classics such as groovy riffs ('Custard Pie', 'Celebration Day'), bluesy jams ('You Shook Me') and full-on, rock leviathans ('In My Time Of Dying' and 'Nobody's Fault But Mine'), the mood rarely falters from sheer guitar abandon. Even the quieter moments like the lovely '10 Years Gone' from Zep's 'Physical Graffiti' have a crunch - Page is ably assisted by Crowes guitarist Rich Robinson and the drums are hit with a suitably Bonham-like boom. Chris Robinson, the Crowes gravelly lead-singer, has long been accused of aping Mick Jagger but here he shows that he has a voice that can roar and swoop like Robert Plant in his pomp. And that is quite a compliment. There are some celebratory cover versions thrown in too, like a playful take on Peter Green's 'Oh Well' where Page and Robinson duel, each daring the other to take flight.
I haven't played air guitar with such virtuosity since.... well.... the first time I heard 'Heartbreaker' from Led Zep's second album. Which, coincidentally, is the opener on this 'Live At The Greek' set. Except it doesn't have to be... If you log onto Musicmaker.com (who hold the rights), the buyer can choose their own personal track-listing, change the order, download specific tracks to their PC (for a charge, of course) or buy the whole god-damned thing in a wonderfully packaged double CD for the about $17.50 from Amazon. Trust me, if you like your rawwwkkkkk dark and dirty and LOUD, then shake your moneymaker, crank up your air guitar and pay musicmaker.com or Amazon a visit.

And 'Stairway To Heaven' is nowhere to be seen....
Stephen McNulty