Oasis
A review of their album 'Heathen Chemistry'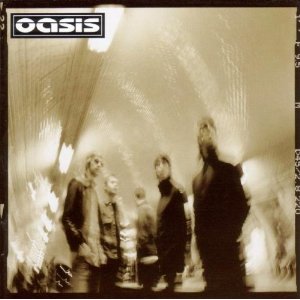 Now that the travesty of "Standing On The Shoulders of Giants" has been deservedly shelved, Oasis have returned with "Heathen Chemistry". The new album plays host to subject matter as peculiar as its title, filled with songs about girlfriends, their lives as rock stars and even philosophical endeavours. Much has been made of the fact that some of these new songs have been written by Liam Gallagher, Andy Bell and Gem Archer, as well as Noel. And from its first listen, 2 main points of interest arise: Liam's song-writing contributions are surprisingly more creditable than you would expect, while Noel's are getting progressively worse, which you probably wouldn't expect.
The single "The Hindu Times" is a bold, brassy intro to the album similar in stature to "Rock N Roll Star" on Definitely Maybe. With a distinctly heavier guitar sound than usual, the song may not achieve greatness, but it is a befitting start. What follows is the first of several pitfalls by Noel. "Force of Nature" in contrast to the first track, sounds little better than a filler, and should have been demoted to a b-side at best. Along with a drumbeat that can only be described as a rip-off of Iggy Pop's "Nightclubbing", its bemoaning lyrics have led many to believe that the song is an attack on ex-wife Meg Matthews, an assumption that Noel has vehemently denied. You cannot help but be sceptical of his denials as he sings "What you seek is a wise man's treasure / You know it's buried beneath your feet" and its stinging chorus; "You're smoking all my stash / You're burning all my cash / I bet you knew right away / It's all over the town as the sun's gone down / On the days of your easy life". The song doesn't even have a second verse written for it and its final line is "Better get on your knees and pray", surly advice he's already offered in "Gas Panic". This nonsensical grumbling makes for a very tasteless song, devoid of anything to capture the listener's imagination. Leave the bitching to Eminem, Noel.
"Hung in a Bad Place" - written by Gem Archer - is reminiscent of the "I Got the Fever" b-side, and is charismatically sung by Liam, along with a committed generic rock tune, which is atypical of Oasis. The second single "Stop Crying Your Heart Out" has potential as a heart-felt ballad, with soothing guitar riffs accompanied by a very apt string arrangement. Unfortunately, the song is let down by truly mundane lyrics. "Fade Away" is used for the umpteenth time in an Oasis song and the "Keep holding on" sentiment is hardly original.
Liam's first writing attribute to the record is surprisingly intuitive with "Song bird". Compared to his laughably bad debut with "Little James", "Songbird" is a sweet, sonic folk-rock song played with ringing acoustic guitars and an effective piano riff and it sounds unexpectedly fresh. However, at only 2 minutes in length, it disappears before it has a chance to peak.
"Little By Little", the second track sung by Noel, is as glum as it is perplexing. Obviously written in a somewhat philosophical mood, it seems to answer questions nobody asked. With lyrics such as "You have to give it all/In all of your life" and wailing "Why am I really here?" towards the end, the song just like "Force of Nature" lacks any sparkle. "A Quick Peep" is an instrumental written by Andy Bell and it consists of a pretty boring guitar riff, underscored with a heavy bass riff. It does not venture or deviate at all and being less than 90 seconds in length, its inclusion is pointless. "(Probably) All In The Mind" once again has a philosophical touch with lyrics that depict amateur poetry. "And the life I'm trying to find/Is probably all in the mind". After 5 albums, Noel should realise that lyrics do not have to rhyme to get the point across. At this point, it's difficult to believe that his songs could get any more basic, but they do. "She is Love" is supposedly dedicated to his new girlfriend, which is a bad start; he has already wasted one track grumbling about one girlfriend and repeats the error by praising another one. (Maybe, he'll be writing about the in-laws on the next album). Despite the catchy tune, it plays host to what must be considered his most threadbare lyrics; "All I know is that I'm in love with someone who loves me too". This is trivia that belongs on the toy-store shelf.
Overall, Noel's song writing for the album is nothing short of catastrophic, and it would appear that he has seriously run out of ideas. It seems that he has not yet exorcised the demons from the days of "Standing On The Shoulders of Giants." The fact that there are now 4 members of the band writing instead of one offers a much-needed glimmer of hope.
"Born On A Different Cloud" the second track penned by Liam, reminds the listener of the Beatles once again; a cardinal sin for Oasis at this stage. Sung in unconvincing fashion, its vibe is very similar to "Hey Jude" or "I Am The Walrus" (ironically). "Better Man", the final track on the album (also written by Liam) is the perfect example of what Oasis should be doing: experimenting. The cutting guitar solos bring an oddly punk-ish sound, with distant background hums working perfectly with Liam's slurred, aggressive vocals. It's a good exit for a record that also had a good start. Shame about what was in between. Had Oasis experimented more, they might have produced a good album. Also, for those interested, there's a hidden instrumental in the final track on CD and you have to search through about 33 minutes to find it. It's only a hashed repetitive riff similar to "Champagne Supernova" but without the class, so it's not really worth the effort.
All in all, "Heathen Chemistry" is a disjointed fragmentary affair, cluttered with lyrical shortcomings and predictable Beatles influences. Its demeanour is that of the same old story as they have once again failed to exceed their own limitations, making it a must for fans but not so hot for the rest of us. And now that Oasis' third lacklustre album in a row is with us, you wonder if they will only be remembered as an album great instead of a rock n' roll great. Sadly, the answer is Definitely Maybe.
Jimmy Murphy