Beck
A review of the album 'Mutations'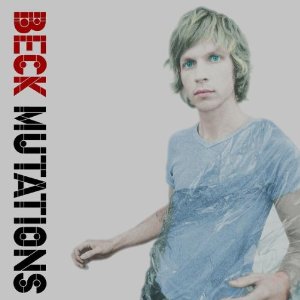 Beck Hansen is trying to tell us something. This collection of 'out-takes and bits and pieces', his first album since the commercially (and critically) successful Odelay of 1996 ... well ...is quite an album. More Nashville than slow-jam, more simple than sampled - it reveals more and more about this multi-talented songwriter and multi-instrument playing musician. It's a bit like eating a fruit salad with ice cream, covered in liqueur. You think "it doesn't get any better than this," ...... and then you hit the Cointreau at the bottom ...and it suddenly does.
Plenty of acoustic guitar and mellow moods, some country drums and bass (as opposed to drum 'n' bass) and the odd "wow, where did that one come from?" just to keep things interesting. But at the end of the day, IT'S THE LYRICS STUPID! You get the feeling if you heard Loudon Wainwright doing the same tunes, you'd switch off after the first line. There's still plenty of that great "What the hell is he saying?????" feel to the entire album. From the "embassies (that) lie in hideous shards" of the catchy first release Tropicalia to the "emoting cold and grey scented eunuchs (that) clothe our wretchedness" on Diamond Bollocks, it's like you're at a party and the coolest person has told a joke. So you laugh at the punchline just to hide the fact that you didn't really get it.
I haven't a clue what Beck is on about ever since he said that his "time is a piece of wax that's fallen on a termite - that's chokin' on the splinters" (on Loser all those years ago). But if this is a joke, I find it completely hilarious.
If you like your Country tinged with the coolest voice spouting surreal scenarios, then buy this for Dead Melodies and Sing It Again. If you like your music to be surprising yet melodic, then buy this for Nobody's Fault But My Own. But most of all, if you want to keep your musical palate young and educated, buy Mutations.
It's a winner baby, so why don't ya kill me.
Brano

Check out the CLUAS.com review to 'Midnite Vultures', Beck's follow up album to 'Mutations'.