Motorsounds Records
A review of their compilation album 'Blood on the Scratch Plate '65'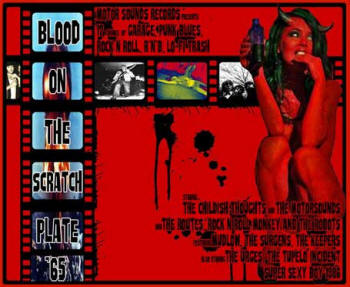 Review Snapshot:
Lo-fi DIY primal and primitive garage punk rock 'n' roll compilation from the Northern Irish based Motor Sounds Records.

The Cluas Verdict: 7.5 out of 10.

Full Review:
It's very obvious from the off that The Motor Sounds love rock 'n' roll; its passion, its stamina, its blood, sweat and tears and its refusal to apologise for stealing your girlfriend. That ethos is what ultimately drives this album.

The CD opens with a lo-fi recording of 'Anybody Else' by the Childish Thoughts proving themselves to be true perverts of frug rock, although it is upstaged by their second tune 'Girl Blind' and its sneering riff. Rock N Roll Monkey and The Robots belt out 'Shaky Jake' in a riff-roaring manner that would make Billy Childish curl his 'tache. Their second track 'James Dean was a Jerk' has a more pop punk feel in the vein of the Buzzcocks. The Routes track 'The Shadow' is a power house garage tune with an evil rockabilly twist. Such slide guitar sleaze threatens to melt your stereo and is one of the stronger tracks on the cd.

Mudlow's track 'Zac' introduces some serious fuzz bass and sax, with a gruff Captain Beefheart vocal to make an old-school swing rock 'n' roll gem. The Keeper's 'Money' is a pure and unadulterated mod dancer; Small Faces complete with lo-fi recording. 'Golden Hole' is the better of the two tracks from Super Sexy Boy 1986 with a Von Bondies-esque snarl to it. The fact that many of the bands have two tracks included on the album is my only real complaint with this compilation - a shorter track list would have dropped some of the slighter weaker tracks and kept it a leaner beast. But with claws as sharp as this track listing has overall?it's a small complaint.

And so the best is saved for last folks. Both tracks from the MotorSounds themselves and psych bastard children The Urges are reason enough alone for buying this album. 'Hardtale Lurgan Blues' opens to the sound of smashing glass and what comes next is a bar room brawl of explosive blues-infused filthy rock 'n' roll, as only the Motorsounds can do. This tune is quite simply an animal. It's Hawkwind's Motorhead beating Screaming Jay Hawkins with a monkey wrench in a hundred mile an hour road-hog race. It ends as abruptly as it begins, leaving you wanting more.

The Urges 'The Urges Theme' is one of the best tracks I've heard this year from an Irish band, never mind on this album. And I urge you (sorry!) to seek it out. It is a subtly evil surf and psych track, with an eight-mile high/ white rabbit sinister melody soaked in whiskey and regret. It would sit easily on any Nuggets compilation and would quite frankly surpass most of the tracks thereon. A menacing wail of lead and backing vocals, combined with razor sharp drumming and a beautifully produced recording makes it a standout tune on the album.

Get thee to your nearest indie dealer and buy it!