Macy Gray
A review of the album 'On How Life is'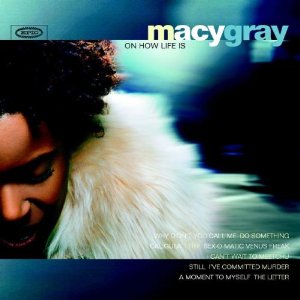 Now, I was raving about this album to my friends as soon as it was released in late summer. The publicity machine has taken its own sweet time to create the necessary hype that brings airplay and exposure to the public at large.
Refreshingly, this album delivers. It's a fusion of soul, jazz, r'n'b and is just packed full of sassy attitude. For example , the opening track is entitled "Why Didn't You Call Me" and revolves around a successful date that has lead to.... nothing. "Do Something" is Ms. Gray's call to shake us from our comfortable lives: "Don't let the days of your life pass by/Get up get out and do somethin' / How will you make it if you never even try?". The track has an exquisite string arrangement underlying the raspy war cry.
"I Try" , the current single, demonstrates the sheer class that surrounds Ms. Gray. It is effortlessly stylish and understated, lyrically powerful and sung with voice shaped by life's ups and downs. The tempo shifts to funky soul with "Sex-O-Matic Venus Freak" (a very James Brown kinda title) and the brilliant "I Can't Wait to Meetchu".
The final tracks see Ms. Gray return to a mellow, wistful style as demonstrated in "Still" which touches on the aftermath of a failed, violent relationship: "And your crumbs of lovin' / No longer get me by". "A Moment to Myself" again acts as a showcase to demonstrate the brilliance of her song writing.
The album closes with "The Letter" which is a perfect end to an original and excellent debut. The track is uplifting and calls to the restless souls in us all: "Don't know where I am headed/Hope to see you soon/So long everybody/I have gone beyond the moon".
Go buy this album. It'll make you a better person.
Suneet Joseph

Macy Gray's album 'On How Life is' can be bought from Amazon at a special rate by clicking right here.