Frank London's Klezmer Brass Allstars
A review of his album 'Brotherhood of Brass'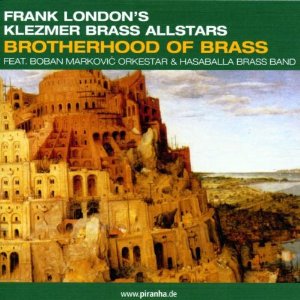 One of the most uplifting sounds in music, brass bands have changed little and changed hugely during their two hundred years of history. They started as military bands in the Turkish Ottoman Empire which stretched across much of Europe. When the Ottomans fell at the First World War however their brass bands were eclipsed by local musicians in the countries ruled by Istanbul and the instruments discarded by the departing armies were taken up by locals. In the Balkans in particular, locals and gypsies played their own music on the instruments, cross-pollinating their local musical traditions with others they'd gathered on their wanderings through Europe.

Gypsy bands became the groups of choice for local wedding and celebrations and wedding music is the common thread, the style shared between the three bands on this album: Klezmer Brass Allstars, Boban Markovic Orkestar and the Hasaballa Brass Band. Pride in their playing is a hallmark of gypsy groups and no place is such pride more evident than here on the Boban Markovic Orkestar tracks. The Boban Markovic band has starred in Emir Kusturica's films 'Underground' and 'Arizona Dreaming' as well as being regular champions in the legendary brass band competitions and festivals held annually in the former Yugoslavia.

Frank London's Klezmer Brass Allstars is a group of Jewish players. Strings and reed are more associated with Jewish-Yiddish music than brass but this American-based group is virtuosic in its style and competence as well as its exuberance. Front man Frank London is the group's trumpeter and driving force in what's been described as the "Hasidic New Wave," an avant garde character who's rounded up some of the world's best brass players to create the Klezmer Brass Allstars. Not content with his own super-group, London tapped the Boban Markovic and Hasaballa bands to form the 'Brotherhood of Brass', a monster road show of brass which toured Europe earlier this year. This is a recorded snap shot of the "hot beats, cool grooves and transnational musical smuggling" (Frank London) that the brass men and women got up to.

Brass instruments are magnificent in their own right, with a sound rich in grandeur that sets brass apart from most other instruments in the classical or popular music fields. Brass is bold and stirring, capable of producing high notes and colour to a group's sound that no other instruments can produce - hence the regular inclusion of brass in perfectionist rock acts such as the Rolling Stones and Bruce Springsteen's E Street Band.

Recorded in Boston, Budapest, Cairo and New York in 2001 the record includes 14 instrumentals and one song (sung in Hebrew). The three groups represented on this album feature the ultimate in the sound and soul of brass band music.
Thousands of years after the fall of the tower of Babel, Jews, Moors and Gypsies finally reunite here with masters of brass from New York, Cairo and the Balkans to celebrate the rediscovered traits of their common past. Sounds like a damn wild party.

Mark Godfrey

'Brotherhood of Brass' is released by the great German label Piranha