#kingsativa
A review of their debut album 'We Did Then'
When Lee Scratch Perry predicted many years back that dub-reggae was the future, he must have been referring to our very own #kingsativa - true Dubs they are and true reggae is their trade. For some time now Cheeko and co. have been renowned as one of the most exciting and uncompromising live acts on the domestic scene. The release of 'We Did Then', their much-anticipated and long overdue debut long-player, leaves us in no doubt that they can be just as effective in the studio.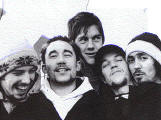 Perhaps the biggest triumph here is the album's accessibility to all. If your enjoyment of reggae comes in the guise of Shaggy, UB40 or that bloke who sang 'Informer' then the infectious pop grooves of 'Feels So Good' and the hidden 'Saying So Much Things' should provide your kicks. If, however, your boat is floated by the likes of Israel Vibration and the late Dennis Brown then there's plenty to get you worked up too.

'Where Do You Stand?' is dynamic and in your face with drummer Anthony Kenny, shuffling along like an old jazz maestro on acid. "If you're not part of the solution / then you must be part of the problem" is the mantra that introduces the indignant 'What's Going On', a sure-fire bet to leave you asking? Marvin who? Then of course there's the delightful title-track, with all its rueful reminiscing that sees the enigmatic Cheeko being overshadowed by the youthful and heavenly backing of one Katie Dowling - think Soul II Soul's 'Get A Life' and you're nearly there. Though all this equates to a job well done, we're still left with 'I Need Love', an introspective thing of sweeping beauty that could sit proudly in Bob Marley's catalogue.

Dealing with integral issues like love, ignorance and liking cake, 'We Did Then' is a glorious soundtrack for a new Ireland. If this is to be your first reggae experience, rest assured you are in very good hands.
Frank McNally