The Kills
Review of their album 'Keep on Your Mean Side'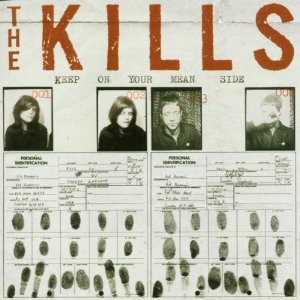 The Kills can certainly make a racket, considering there are only two people in the band. Hotel (guitarist, American, male) and VV (singer, English, female) met in London, left, formed the Kills in America and returned to record this.

'Keep On Your Mean Side', the Kills' debut album, is certainly one from left field. Which is not to say it's not very good. The opener, 'Superstition', starts with a stuttering drum-machine. Just as one is expecting a bout of electronica, a clanging riff takes the song in the completely opposite direction.

'Cat Claw' and 'Pull A U' are slightly more conventional but taking the sparse sound of just a guitar, a voice and a drumbeat and making it work is still relatively unchartered territory in rock music. The White Stripes have proved its worth and now the Kills are doing the same.

Things get slow and psychedelic on 'Kissy Kissy' and 'Monkey 23'. There is definitely a strong taste of the Velvet Underground and My Bloody Valentine in the Kills' music, i.e. why use four chords when one will do, over and over again? The slower songs give room to the vocals and VV has a great female rock voice - powerful, intimidating and sexy as hell.

The album even finds some room for twisted country music on 'Wait' and 'Gypsy Death and You'. However, 'Keep on Your Mean Side' isn't without its duff moments. Any Velvet-style jam needs an edge to keep it interesting. Some songs just don't have this and begin to grate after a few listens.

But this can be forgiven. Anyone lucky enough to witness the Kills supporting the John Spencer Blues Explosion in the Tivoli in January saw the onstage chemistry/sexual tension shared by Hotel and VV and, hopefully, this band can build on this excellent debut. And here's hoping they release 'Fuck The People' as a single so MTV viewers will be singing along to the best chorus written in years: 'Hey, fuck the people'.
Donal Griffin

To buy a copy of this album on Amazon just click here.


'Keep on Your Mean Side' is released on Domino records.


Feel free to discuss this review on the CLUAS Discussion Board.