Jeff Beck
A review of the album 'You had it coming'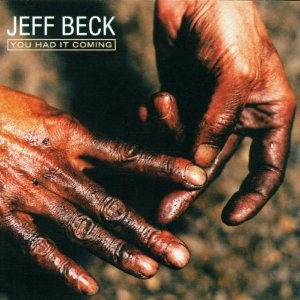 Ah, Beck's back. No, not that one. I'm talking about the Beck of Beck-Ola as opposed to Odelay fame. In the sixties Jeff Beck was one of the holy trinity of guitar maestros who passed through the Yardbirds' line-up. Eric Clapton and Jimmy Page went on to superstar fame and became big music business names after leaving that group. Beck on the other hand - though recognized for his skill and technique - never really passed beyond being a guitarist's guitarist. In and out of semi-retirement Beck has now managed to release two solo album since 1999.
So, what does his latest album 'You Had It Coming' have to offer those of us who can barely manage a C-chord on a guitar and who thinks 'guitar music' must mean Britpop or Grunge? I expected it to be every bit as appealing as the grit-and-grease-laden hands on the CD's cover. I was wrong.
After decades of playing heavy metal or jazz Fusion guitar, Beck has opted for a touch of techno on this album with mixed results. Opener 'Earthquake' rattles the hoardings and breaks the bricks like a stuttering jackhammer. Almost overbearing mechanical repetitions pound out some Nine Inch Nails as a fast guitar frenzy fights back at the limited vocals. The instrumental 'Roy's Toy' starts with a motor revving before turning into the best car chase music this side of a video arcade racing game. Just close your eyes and envision the curves, crashes, gear shifting and grease (ah, yes that cover photo).
The aptly named 'Dirty Mind' is music of the noisy bed variety. A humping, bumping rhythm provides the backdrop to a sexual duet of sorts. Beck's slippery smooth guitar strikes up a seduction suite as the limited female vocal gasps a pumping rhythm of its own in response. Featuring full vocals and lyrics, "Rollin' and Tumblin" is probably the only proper song on the album. This is pure Southern fried boogie with drum cadences and tasteful guitar teasers balancing out the gutsy female Rhythm and Blues vocals. Only number four on the track list, it is the last one featuring human vocals. It's already apparent that Beck's voice is his guitar and vocals are frequently treated as just another instrument.
Next up 'Nadia' has drum loops but eases back on the techno. This is exquisitely lovely stuff as the simply stunning guitar work sheds soft, sweet but simpering notes of love, or lust, or just leave it to your imagination. After this highlight Beck slides into a stream of simple soundtrack fodder. Just hit the skip button three times to find a call and response conversation between chirping birds and a winging guitar. "Blackbird' as it is titled actually functions as a prelude to the album closer called 'Suspension'. This is chill-out music of the most exquisite kind. A chimey guitar slides over a light background beat supplying the listener with an emotive lullaby of release. All the album's tension and techno is traded for a drop of otherworldly ecstasy. After all the toughness, techno, and occasional tenderness of this album, Beck saved the best for last. Even if you aren't a guitar music fan, it's worth hitting the repeat button. Otherwise just program in the numbers 2, 3, 4, 5, 9, and especially 10.
Barbara Lindberg