Iggy Pop
A review of his album 'Beat 'Em Up'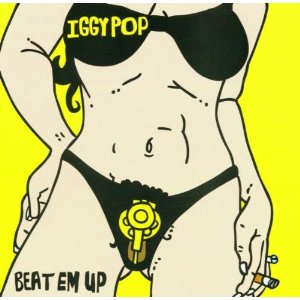 The opening line lambasts, 'you're wearing a mask.' Henceforth Iggy is 'lost' in a 'wasteland' in 'a garden of evil' ('L.O.S.T.' spelled out as such for our edification); Hawkwind revisited ('Howl'); a tired post-grunge sports toy ('Football'); 'in a box' ('Savior') and elsewise contorting himself into the form of some other such utilitarian non-sequitur. On the title track he comes over like a geriatric rocker rallying a cry against his youthful usurpers, the appropriately monikered Limp Bizkit, and, it seems, without irony. 'We gotta' beat 'em, beat 'em up.'
Oh, jaded and unwashed leather pants. Just so many shop-soiled truisms to illustrate the Mid-American white-trash cultural void, that sets the occidental tone, but without insight, illumination or musical vision.
We could probably triangulate the surface area of generic rock lyricism by counterpoising the prosaic smithery of Pop with the arch word-frippery of his nemesis and cohort Bowie. That self-same hypotenuse marked the classic 'Lust For Life'. Unfortunately, after those landmark years, a steadfastly degenerate rock pantheon plumbed the wellspring until Nirvana came along to not only board it shut but deftly decimate the Hole in their own wake. Not even the progenitor himself knows where to go with this now.
Iggy Pop. Old gold making bad metal.
Carol Keogh