Ian Whitty
A review of his album 'Will o' the Wisp'
From a county with a rich heritage of imaginative prose comes a singer-songwriter steeped in this tradition. Kerry's Ian Whitty has compiled a record of seven songs that is equally beguiling, deep and musically insightful.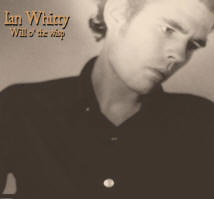 From its opening moments, the album establishes itself as an understated yet intricate collection. While gentle acoustics are meet with some eerie but delicate electrics on opener "Dusty Angels", it is Whitty's unique vocal that is the standout instrument. As Ian sings of "we could move so gently and so quietly out of sight", it seems that he is almost trying to find a place for this album - a little hideaway from the lurches of everyday live.

Intelligent instrumentation is used throughout to ensure that "Will o' the Wisp" does not fall into the lacklustre spectrum of much of the singer-songwriter world. A useful supporting cast offers organ, glockenspiel, strings and more to the album that compliment the production work of Whitty and Steve Fanagan. The title track and "Build You Wings" immediately appear as album standouts but it is perhaps the tantalizing juxtaposition of Whitty and Eithne O'Mahony's vocals that leave the most enduring memories from this album.

Finishing up with "The Neon Word", a spoken word composition is indeed a bold move. It perhaps sheds an intensity that wasn't always evident in the album. It exposes Whitty, as he is practically stripped to the bone, as he is almost speaking in tongues with a sort of protest against the mass-populism of city-life. It shouldn't work but it does, somehow fitting into the whole rhythm of the album.

"Will o the Wisp" creeps in at twenty-seven minutes without you even noticing. It is a slow-burning mini album that is an exemplary introduction to one of the best at his craft in the country.

Ciaran Ryan

Check out a CLUAS review of Ian Whitty live with Martin Finke in 2002.


For more info on Ian Whitty check out his website.