Hot Hot Heat
Review of their album 'Make up the Breakdown'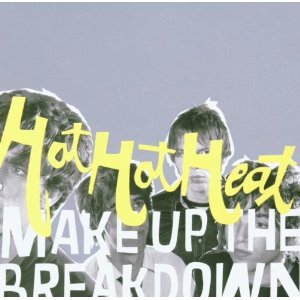 It's hard to know where to begin with Hot Hot Heat. The hype? The bizarrely surreal video for Bandages. The list of comparisons to. (Insert retro flavour of the month here). Make Up The Breakdown may not be the deepest or more substantial record released this year but in terms of feeling good and playing hard, Hot Hot Heat will be hard to beat.
Whilst Hot Hot Heat may have avoided the same levels of hype dumped upon the likes of The White Stripes and The Strokes, they have still been lesser victims of the hype machine. It seems any band championed by Zane Lowe is automatically expected to save rock and roll. But such hype and expectations will probably only serve to hurt the band, as is usually the case.
Despite the fact the lead singer Stephen Bays has openly admitted to never being a Cure fan, he has had constant Robert Smith comparisons thrown at him. Admittedly, Bays' yelping and hyperactive voice does at times bring to mind a slightly chirpier Smith but strip all that away and you're still left with a record that hits you repeatedly with short, spikey, catchy as hell, dance-your-ass off, rock tunes. 'Bandages', 'Oh Goddamnit' and 'This Town' display the bands perfect fusion of NYC punk and eighties dance (despite the band's Canadian roots) as does the ever catchy 'Get In Or Get Out'.
Once again, there will be those who will say that this has all been done before but these are the same people who think Longwave ripped off the Strokes and the Strokes ripped off everyone. Hot Hot Heat may very much be a product of their influences but never before has it all been thrown together into such a vibrant sonic stew.
Discard the hype and let Hot Hot Heat brighten your day.
Mark Grassick

To buy a new or (very reasonably priced) second hand copy of this album on Amazon just click here.