Guns'n'Roses
A review of the album 'Live Era'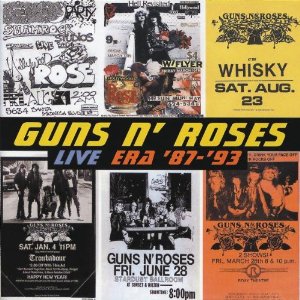 Whatever you might think about them, Guns N' Roses were arguably one of the best and most influential rock bands of the late 80s and early 90s. 'Appetite for Destruction' - the first real rock album I ever bought - is in my view probably one of the best albums ever. However things then went a bit pear-shaped for the band. While 'Use Your Illusion' I & II had some good songs on them, the band seemed to be losing the plot a little, thanks in no small part to their legendary commitment to the sex, drugs and rock'n'roll lifestyle. As for their album of punk covers, 'The Spaghetti Incident', the less said about that the better.
So now they've decided to cash in and release a best of album recorded live from 1987-1993. It contains tracks from their days playing in the dingy clubs of LA right up to the huge stadium gigs of the 'Use your Illusion' tour in the 90s.
It had been a long time since I'd heard a G'n'R song before buying this album, and I wasn't expecting too much to be honest. I just figured it's be cheaper than buying their back catalogue, seeing as this live album had most of my old favourite songs. However, I was quite surprised to see that the band's drink & drugs habit never affected their live performance, at least, not the ones on this album. Axl, Slash, the other two whose names I can never remember and an assortment of drummers consistently deliver the goods. It's testament to their staying power that they can still sell albums, and still be popular, unlike most of the other late 80s LA bands whose big hair was almost as ridiculous as some of the trash they managed to release.
Whether it's the stadium crowd pleasers - 'Knocking on Heaven's Door', 'Sweet Child Of Mine' or 'Welcome to the Jungle' - or some of their lesser known songs like 'Rocket Queen' and 'Pretty Tied Up', they all capture the moment and the atmosphere brilliantly. The only notable absentee is their epic 'Civil War', which I thought would have merited a place on the album. A small complaint to have with such a great album.
With 22 tracks recorded 'across the universe' (according to the sleeve notes) this album would make the perfect Christmas present for those who think they've grown out of that type of music. We're old enough now so, if you have enough money, maybe you can throw in a bottle of Jack Daniels and we can try and recreate an after show party ourselves.
Eamonn Carey