Godspeed You Black Emperor
A review of the album 'Lift Your Skinny Fists Like Antennas To Heaven'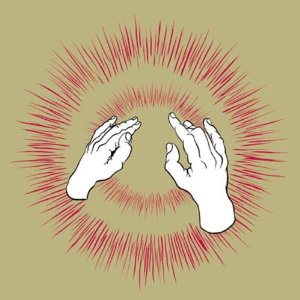 Godspeed You Black Emperor have over the course of four "songs" (spread over two CDs) created the Album of the Fortnight by a longshot, if not a serious contender for Album of the Year.
It starts solemnly. Pipes parp in a some distorted guitar which builds up alongside a twinkling xylophone amid the tones of meandering strings. Gradually, like a DJ reaching the highest peak, reaching up higher than the sun, it happens. Marching drums herald in a squadron of guitars and amid clarion calls of wandering brass they build and build until...it stops. Feedback flutters as you catch your breath and then you hear something resembling 'Amazing Grace' picked out on a lone, rusty guitar. This surreal moment heralds in movement two of track one, it's called 'Gathering Storm'. The 'Amazing Grace' picking is augmented by some drums, some bass, some strings and some more feedback and it all builds to a storm, an elongated thunderclap of every player pausing on one solitary note. One of the two drummers gears up for a final assault. He's joined, of course, by drummer number 2 and a worrying amount of guitar, bass and xylophone (?) On that, the third movement is called in by a sample of a supermarket public service announcement. Movement four - 'Cancer Towers On Holy Road Hi-Way' - finishes the first "song", (we'll call them 'pieces') with a disemboweled, mournful piano. 27 minutes in and you know the rest is going to be just as good. And it is.
'Lift Yr. Skinny Fists Like Antennas Into Heaven' is some of the finest music you will hear all year. Each piece clocks in at over 20 minutes and makes for the album you have always wanted to hear. Sometimes a loose jam, sometimes a musical storm of ferocious power, sometimes a deathly, beautiful drone, this is not your "normal" album. Godspeed... are not like anyone you've heard on record before. Maybe an occasional flash of Hawkwind in the early 70's might have come close but that's too vague. If you've ever been in a band and had those big stoned 30-minute workouts and forgot to turn the tape player on, well this is the sound of those huge jams honed to perfection. They build you up, they tear you down. Samples (most poignantly the one from Murray Ostril talking about Coney Island and the days that used to be: "...I remember how things used to be, and I feel bad") are the only lyrics here, the emotional, highly charged and exhilarating music does all the talking that's necessary. There's even a glockenspiel solo in there somewhere.
One listen to this album will have you begging to see this band live, and there's not too many albums these days that do that is there? Recorded over nine days, 'Lift Yr. Skinny Fists Like Antennas Into Heaven' is the album the music world needs right now. Dance can lift you up for 20 minutes on end with a single song but very few DJ's and dance acts can capture live emotion quite like the type captured on this album. They can't capture what will become memories like Godspeed can. Pink Floyd fans will love it, metallers will love it, dance fans will love it... there's no need to go on.
In a word - incredible.
Ronan Casey