Gabrielle
A review of her album 'Dreams Can Come True' (a 'best of' compilation)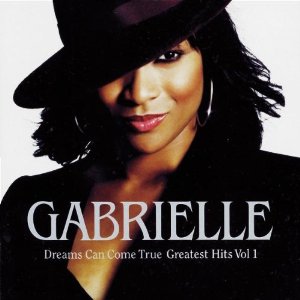 Gabrielle's songs lack everything that most schools of song writing would insist on - a strong opening. You only have a few seconds to grab the listeners' attention they say. Well, Gabrielle instead gets a firm grip with her voice, one of unusual quality. She sweats the hook every time - a Gabrielle hook is regularly implanted in your mind after one listen to the song. Rich and soulful, warm and easy, the words are delivered in melodic lines you can't shut out of your mind. No matter whom you play your song for, everyone's ears are conditioned to listen for your song's hook. Everyone's waiting to hear it and Gabrielle doesn't keep them waiting. Her songs are faultlessly structured with the hook as its chorus. There's an industry saying after all "Get to the chorus, don't bore us." Hooks sell songs to music executives. Hooks also sell your record to the public, and Gabrielle has sold plenty.

Master of fitting her true story into a 3-minute song the former hair-dresser always has a clear vision of what the song is about and so delivers more convincingly, unlike lesser successes. If you don't have that vision after all, the listener isn't going to bother figuring it out.

All her songs that bubbled to the top of the Top 40, songs like 'Out of Reach', applied an easy-to-use structure, catchy lyrics and superb production values. Hype by the labels after all will get a song on the radio, but it won't keep it there.

The two superior tracks on the album are however covers: 'Rise', the Dylan number, and Bacharach's 'Walk on by'. Her cover of the former dispels the old canard that 'Dylan didn't do soul so soul can't do Dylan'. A liner note by the artist explains the joy she's gotten from Bacharach's number (as with all her work, Gabrielle explains the story and motive behind each song so comprehensively and with such modesty that you believe the woman).

Exuberant and earthy while also being urbane and feline, another distinguishing mark of Gabrielle songs is their conversational style. Today's popular lyrics are increasingly more conversational. Mass radio audiences after all want to hear lyrics express what they'd like to say the way they themselves would say it. Sprayed with perfume, Gabrielle's songs are a lesson in successful music marketing, delivering the right product to the right market. So, in hair salons, advertising offices, discos and travel agencies of the world, the world moves to a Gabrielle tune.

Gabrielle holds her fans (and fees) through an unusually disciplined ability to write to her song's topic and market. Lyrics should be tailored to the type of music it is being created for, the song topic you've chosen, and the market you're trying to reach. The words you choose should also reflect the language of the market you're aiming for.

She's a nice lady. The songs are confessional, with a little autobiographic deposit in every song. Stunning looking, Gabrielle manages to look more real and sincere than another soul sister, Whitney. She may be more talented too.