Fiona Apple 'When the pawn...'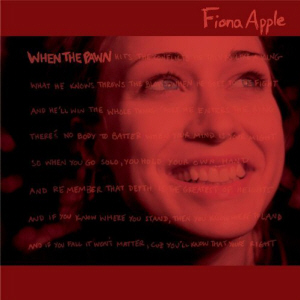 Just over three years ago now, whilst working in a record store in South Africa, I was taken aback by the most beautifully delicate yet piercing, blue eyes (I hear you wretching but no! I promise this is not a screenplay for a mushy Hollywood-inspired love story!) In fact, they were the eyes that adorned the cover of Fiona Apple's debut album 'Tidal'. On first listen I was taken even further aback. I couldn't believe that such a rich, sultry, jazzy voice could come from the same 19 year-old body that possessed such hauntingly innocent eyes. I could write for days on the glories of 'Tidal', but to cut a long story short it was quite simply phenomenal!
I apologise for the long-winded introduction but it has come to my attention that Ms. Apple is for the most part completely unknown on this side of the world. Let me quickly fill you in on what you might have missed thus far :- Young girl gets raped at the age of 12 by middle-aged man, said girl lives her teenage years as an outcast with her piano as her only solace. Friend gives demo-tape to record industry big-wig she was baby-sitting for, big-wig signs girl, they then record album which sells a few million copies. Girl wins MTV award for Best New Artist and in her speech calls the whole event "a load of bullshit!" That should just about cover it.
Apple's realisations sparked widespread alienation from the US media and the 90-word title for this, her second release is actually a poem she wrote about the whole affair. This, however seemed to cause further indictment and with that the record company stepped in and gave the album the working title of 'When The Pawn.' Verbals aside though, the one thing the American music press could not argue with was the quality of the material ('When The Pawn' was released in the USA in early November).
It may not be much of a deviation in style from her first effort but what you do hear is a considerably more mature Apple (she's now 22) with her distinctively smooth, silken lyrics flowing over a bed of some incredibly intricate beats and grooves. All this comes courtesy of an amazing collaboration between herself and producer / multi-instrumentalist Jon Brion, the man who takes much credit for his work on Aimee Mann's two solo releases to date. All in all, what we have here is probably best described as Tori Amos meets latter-day Tom Waits. Think about it. What a beautiful combination!

There's no hiding the fact that the content of the songs are dominated by feelings of angst as a result of relationships gone wrong. On 'Love Ridden' she sings "Only kisses on the cheek from now on / But in a little while we'll only have to wave / My hand won't hold you down no more". But don't think that what we have here is another Alanis Morissette, far from it. This girl can do rock, folk, jazz and blues with equal aplomb, all of which is displayed throughout the course of this album. Fiona Apple, like another stateside superstar, Dave Matthews, has that rare ability to manipulate the lyrics at the last moment to keep the song on course before the tempo changes once again and the song shoots off in a different direction.
There's no pretence involved here, what you get is ten finely-crafted tracks from the reflective opener 'On The Bound' and the bitterness of 'Limp' to the swingingly poetic 'Paper Bag' and the manic first single 'Fast As You Can' right through to the heartfelt bluesy finale of 'I Know.' Although Fiona Apple will probably never enjoy the same success in Europe as Clean Slate label-mate Macy Gray this album is absolutely, completely and utterly unmissable.
Frank McNally


Fiona Apple's album 'When the Pawn' can be bought from Amazon at a special rate by clicking right here.