Faith Evans
A review of her album 'Keep the Faith'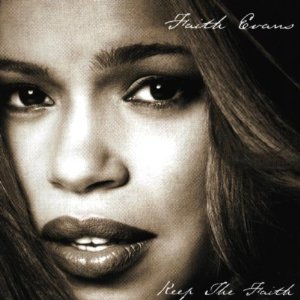 I bought this album on the strength of "Love like this" alone. And I'm not even a dedicated disciple. The track kicks in after the "Intro", in which Ms. Evans harmonizes on having the "faith to conquer anything". This is all very well and good but this album fails to consistently deliver the goods.
There is no doubt that the bass line in "Keep the faith" is killer. Indeed, the whole album benefits from the slick production of Puff Daddy. However, at times the production is overly slick and leads to a reliance on the listener to just lap up tracks which are just plainly mediocre in all respects (e.g. "Sunny Days", "Anything you need" and "Caramel Kisses").
This is why too much US r'n'b is utterly forgettable. Artists should have the courage to take their music to the next level. If they are blessed with genius, they can create their own standards of musicianship. Just as important, artists should endeavour to keep quality control at the forefront of their minds. Otherwise we just feel short-changed....
The album does have some other redeeming tracks, "All night Long" , which is blessed with a thumping bass an infectious harmonies. "Life will pass you by" is also noteworthy for the stylish production. This song is an outlet for Ms. Evans to express herself: "been in all kinds of drama in my life series". The tempo is soulful and reflective of loss and pain in her life, presumably brought on by the shooting of Notorious B.I.G.........
The album closes with Ms Evans again in reflective mood. "Lately I" is a moving song, sung with integrity.
I return to the intro, in which she states that she has the faith to conquer anything. Hopefully this album is one step in exorcising those demons in her private life. In terms of the music, which has to stand on its own merits, 4 good tracks out of a possible 12 shows that there is considerable room for improvement. However, I'm optimistic that this album does not represent her at her very best and so I'll keep faith with her just a little longer...
Suneet Joseph