Evan Dando
Review of his album 'Baby, I'm Bored'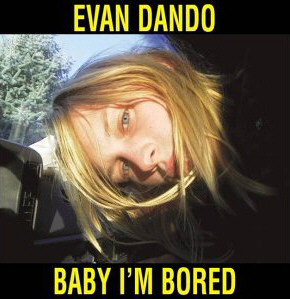 It's been a long time coming. Despite several solo tours since The Lemonheads split in 1996, 'Baby I'm Bored' is Evan Dando's first album of new material since his old band's swansong, 'Car Button Cloth'. The big question is; has it been worth the wait? The answer is a resounding yes.
Pretty much picking up where The Lemonheads left off, 'Baby I'm Bored' is a glorious fusion of quirky pop and laid back country. Lyrically, the new record finds Dando seemingly reflecting on past relationships and regrets with special attention to his well-documented hell raising and hedonistic lifestyle. Along for the ride are various members of Giant Sand (Howie Gelb), Calexico (Joey Convertino) and Dando's long time co-conspirator Jon Brion.
Looking back at Dando's early work on such albums as 'It's A Shame About Ray', 'Baby I'm Bored' is exactly what you would imagine that young man sounding like with the help of maturity and hindsight. From the wistful sadness of 'All My Life', to the giddy jauntiness of 'Hard Drive', 'Why Do You Do This To Yourself?' and the infectious refrain of the finale 'In The Grass All Wine Colored', Dando and his cohorts never set a foot out of place. The tracks that don't immediately stand out will eventually work their way into your subconcsious. Fans of The Lemonheads, Alt-Country and simple but clever pop music will all find something to adore here.
At the risk of being hasty and despite the fact that it's only May, 'Baby I'm Bored' could well be the record of the year.
Mark Grassick

To buy a copy of this album on Amazon just click here


Check out a review of Evan Dando live in Dublin in February 2001.


Feel free to discuss this review on the CLUAS Discussion Board.