Pete Tong, Fatboy Slim & Paul Oakenfold
A review of the album 'Essential Millennium'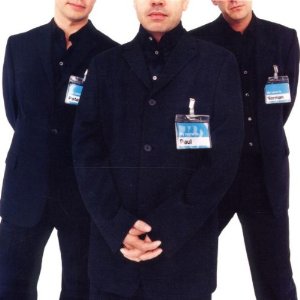 Take three of dance music's biggest stars, add some of the year's biggest hits and what do you get? 'Essential Millennium' that's what.
While it mightn't exactly essential, it's certainly one of the better dance music compilations on offer at the moment. For a start, apart from Pete Tong's set, none of the tracks are top ten material and it's clear that the DJ's themselves picked the tracks as opposed to some faceless record company exec. So, while not exactly groundbreaking, it is completely different to the majority of 'Now Ibiza Hits 99' compilations that are filling the shops around now.
Pete Tong kicks things off with his set of the best house and garage tracks of the year. While good in places, Tong's CD is ultimately a disappointment. All of the year's biggest hits are there but this is exactly the club fodder that's on countless other compilations. I mean, do we really need to hear 'Stardust' again? The mixing is virtually non existent and Tong proves that, while he might be peerless on the radio, behind the decks he's average at best. His name alone will sell CD's but when he drops tosh like 'Sing it back' and 'Get get down', you realise that Tong was on cruise control when he put together this release.
Happily things pick up on CD2. As a DJ, Mr. Slim has never been afraid to take risks and that is in evidence on his latest mixed effort. Hen kicks off by mixing the minimal beats of Armand Van Helden's 'Necessary Evil' into the easy listening of Lalo Schifrin's 'Summer Samba'. It's a bold move but it works. And, as always his mixing is out of the top drawer. He then drops fresh, funky breaks by the likes of Hardy Hard, Major Force and Deadly Avenger. However this level of quality is not kept up and following the peerless 'Private Psychedelic Reel' by The Chemical Brothers, things start to go downhill. The big beat he includes sounds jaded and tracks by Mr. Spring, DJ Stew and Fatboy himself fail to hit the mark. Although, having said that, the CD does end with one of the most inspired mixes to grace any release this year. He manages to blend Groove Armada's serene 'At the river' into Underworld's raucous 'Born Slippy'. Imaginative? Surely. Inspired? Definitely. But that sums Fatboy Slim up. He might be the fastest growing multi millionaire in music history but he still knows how to rock a party.
Last but not least comes Paul Oakenfold. The biggest DJ in the world (according to the Guinness book of records) has a canny knack of jumping on the right bandwagon and his latest choice seems to be paying dividends. Trance was the sound of 1999 and guess who its biggest champion has been? That's right. Mr. Oakenfold. However this isn't the cheesy quaver trance so beloved by pre-pubescent club kids. No Sir, this is the quality end of the market. Tracks by the likes of Ecano, Atlantis and Krystal are all understated, trippy and definitely not Top of the Pops material. Oakenfold has a knack of being the biggest yet still being more underground then any of his competition. Aside from Underworld and Olive, not one of the artists featured are household names. Oakenfold's one flaw however, is his inability to move beyond the trance sound. So eventually this CD just gets boring. The mixing is superb and everything is in key, yet the whole thing sounds a bit cold, none of Fatboy's funkiness or Tong's cheesiness.
Overall it is a worthy package and with 50 tracks there should be something for every thing. Tong adds the hits, Slim adds the grooves and Oakenfold adds the trance. It is also interesting to note that despite being three of the biggest DJs around, their sounds are completely different. So if you have any interest in dance music, go and buy it. You won't be disappointed.
Conor Purcell