Erin McKeown
A (positive!) review of her album 'Grand'
At last, at last, at last. Here, finally, is an album that justifies the record-store of 'authentic female voice' - one to shore against the hype of Holly Golightly, the earnestness of Gemma Hayes, or the ageing aggression of Lucinda Williams (to name but three).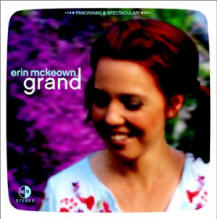 'Grand' is the second release from Virginia-native McKeown, a darting slice of folk-pop-swing-punk whose Marks and Spencer flowers-and-smiles sleeve belies both the deliciously insightful writing and the fact that the album contains a handful of top-ten hooks, if only they would progress that far.

'Slung-Ho' and 'Cinematic' kick-start proceedings - both punk-folk Friday-night numbers with their racing heart on their sleeves. Then matters segue into the swing realm - 'The Taste of You' coming over all Garlands and lace.

No surprise then, that McKeown has admitted in interviews of a mini-Judy Garland obsession. 'Cinematic' sees her celluloid dreams reduced to 'a glycerine smile and a tear for tragedy / something grand Judy left for me', while she later somewhat boldly declares 'I begin where Garland died'. Get happy, indeed!

Aside from these revivalist swing leanings, which recur at stages throughout 'Grand', Ms McKeown (or 'the Lady' as she likes to bill herself) also covers the standards of modern songwriting - love, love and civil unrest. The latter, in particular, crops up in the intriguing 'Civilians', where the first lady of the revolution, guitar in hand, declares that 'It's gonna take a million bodies / piled and killed / to show them we can fight'. Them" only other fellow citizens - kill 'em all, as a slightly louder act likewise declaimed.

Likewise, the album's 'love songs' are suitably different to hold interest. 'A Better Wife' manages to catalogue a relationship breakthrough from the point of view of the dedicated spouse, while never once hitting confessional Bridget Jones territory: "I'm just something else he tried / a catalogue of interests / in a catalogue of lives". And so on.

Rarely short of a good song concept, 'Grand' closes with 'Vera', a fictional letter from the bedridden composer Igor Stravinsky to his wife - with lyrics that neatly reflect McKeown's concern with the domestic - regarding the non-appearance of his friend Dylan Thomas. 'It's funny how well poets lie,' he remarks simply.

Otherwise, it's a case of pick your song. Nothing on this record punches below its weight, and for once those obsessed with lyrics (you just can't get good ones these days - not like back in '95) will find plenty with which to amuse themselves. My favourite' - 'I am a clever lady / just like a satin doll / a little wanton maybe / but I keep my wanting small''sung while the ghost of Dorothy Parker surely smiles.

So, after listening to McKeown's latest, the world is neither a better nor worse place, nothing is redeemed nor anything rejected. What makes 'Grand' stand out is a refreshing lack of this tiresome gravitas. The Lady isn't here to preach, simply to hum.

Cormac Looney

For a much more negative review of this same album click here.


Footnote: having unfortunately scheduled her last Dublin date to coincide with the appearance of a certain Mr Dylan in the Point, Erin McKeown is set to return soon, 13 February 2004 to be exact, as a support act to one Mr. Josh Ritter in the Olympia Theatre. Get there early.