Eric Benet
A review of the album 'A Day in the Life'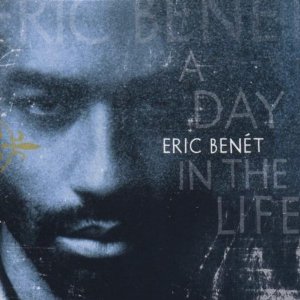 'Eric who???' you will undoubtedly ask
This album was released earlier this year and was largely ignored, which is a huge shame because it's a real gem, full of sophistication and a self-assured style. Indifference to this offering would be a crime.

Benet represents all that is subtle about contemporary US soul/r'n'b. Male artists in particular tend to suffer from preconceptions that they will either sound like Luther Vandross or Boys II Men. But if you free your mind, the rest will undoubtedly follow.
There is a mellow, restrained, mature quality to this work, as apparent in 'Spend My Life', a classy duet with Tamia. The vocal strengths of both artists are supremely displayed. The subtle approach to soul resurfaces in the smooth, jazz number 'When You Think of Me' and the reflective 'Dust in the Wind': 'Nothing lasts forever, but the earth and sky/It's there always/And all your money won't another minute buy'.
The otherwise mellow tempo is lifted from time to time with tracks such as 'Georgy Porgy', a duet with Faith Evans and the rather wonderful, Latin-tinged 'Why you Follow Me'. The understatement and subtlety positively scream out to you on this album. Twisted firestarter it aint.
One of the best ballads is the beautiful 'Come As You Are'. The richness and depth to Benet's voice is undeniable as he recounts how the 'pain of make believing is much more than just letting go'.
The album also contains a few collaborations, one of the best coming from Me'Shell Ndegeocello on 'Ghetto Girl'. The album closes with that kind of late-Friday night track 'Love of My Own'. We are talking silk sheets with this one. Drift off into a state of utter bliss and wake up feeling easy like Sunday morning.
If you like Maxwell or Sade, you should give this album a listen. Simply add fine wine and soft lighting for the ultimate smooth groove experience.
Suneet Joseph