Embrace
A review of their compilation album 'Fireworks (Singles 1997-2002)'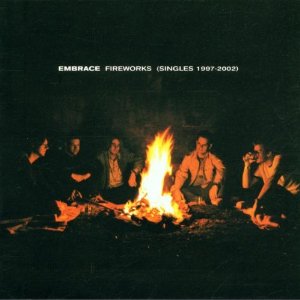 Formed in Huddersfield in the early 90s, Embrace were expected to follow Oasis and Blur into the Brit-rock limelight. This never happened, even with half a decade of writing and touring before releasing their debut single in '97. Today, they remain at their most dominant as warm-up acts, as a popular indie club choice or simply demoted to the enclosed environment of fanfare garage radio. It's conceivable that Hut records are attempting to sprout a branch on the money-tree by prematurely presenting this collection of their singles to date, none of which captured much of the public's imagination (hence, it being labelled "Singles" instead of "Greatest Hits").
This is probably due to the band's stubborn refusal to allow their music to decline into commercialism. Instead of chanting would-be anthems like "All You Good Good People" and "Save Me", the public seemed content to chant nonsensical trivia such as "You gotta roll with it" and "Lives in a house / a very big house in the country". This probably meant that Embrace's window of opportunity closed before they even knew it was open.
That is not to say that this compilation is beyond recognition, quite the opposite in fact. Danny McNamara's charismatic vocals are perfectly on cue with the wall of sound produced on the aforementioned "All You Good Good People" and "Come Back To What You Know". There are lyrical inspirations here too, often differentiating between the highs and the lows. "I'd never climb the walls you'd walk through," he sings with a distant anguish on "I Wouldn't Wanna Happen To You". "Keep holding on and the time will come / you'll jump right up", he sings in utter contrast on "You're Not Alone". Mickey Dale's string arrangements are commonplace, add dynamics to several tracks, particularly on ballads such as "My Weakness Is None Of Your Business" and the superb "Fireworks". There's room for some funk on "Hooligan" while the catchy addictiveness of "Save Me" is a flourishing example of Embrace's sustained rock sound. A couple of tracks such as "One Big Family" are heavy-handed, blustered even, but do not detract from the overall feel of the record. As a bonus track, Bob Dorough's "3 Is A Magic Number" is featured, which is a live favourite of the band and is probably included for their own personal amusement as well the listener's.
Even though this compilation may not have the atmospheric feel of an album, it serves as an excellent depiction of Embrace's talent, one that has been needlessly overlooked. They are (and at this stage will probably remain) a band who should have been, but never were. Do yourself a favour and realise what you've been missing.
Jimmy Murphy