Ed Harcourt
A review of his album 'Here be Monsters'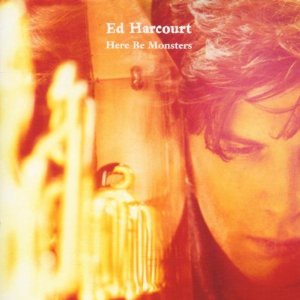 Initial impressions of the misleadingly titled "Here Be Monsters", a fine collection of songs by Ed Harcourt, lead me to believe that Harcourt desperately wants to be this year's Jeff Buckley. It'll never happen-for one thing, he does not have the voice, and for another he'll never have the pain. Harcourt should not let that worry him unduly - on the strength of "Here Be Monsters" young Ed is louche, a little bit raffish, he drinks too much wine, he's got girl trouble, and, like the rest of us, he's consumed by the madness that is the music biz. In short he's got the perfect character profile to be a really accomplished singer-songwriter.
If that was not enough Harcourt most definitely has the musical smarts - "Here Be Monsters" is Harcourt's first big shot at fame but every track here is fully formed and beautifully arranged. Most of Harcourt's songs are piano driven with really superb piano lines. As I said earlier, Harcourt is no Jeff Buckley but his voice is distinctive in a very breathy way and he can easily switch from tender to tormented - imagine if you will a slightly rattled Colin Blunstone and you get the picture. If anything, the vocals, or to be more specific, the mixing of the vocals, represent this album's most obvious weakness in that they are mixed right down. This is a pity, given how other lesser vocalists more or less eat the mic on their recorded work.
As for the songs themselves, "Something in my Eye" is a languid opener, but tracks like "She fell into my arms ", "Hanging with the wrong crowd ", "Apple of my Eye" and "Shangai" are simply great piano based pop songs with hints of Tamla Motown and the Beach Boys, and even, dare I say it, Hall and Oates -"Shanghai", with its cheesy piano lines, is a potential hit single, or at least it would have been for ELO in 1978. "Those Crimson Tears" shows that Harcourt can do wistful and windswept, and on "Beneath the Heart of Darkness" Harcourt and the band turn up the amps to 11 and go head on for the full guitar work out, sounding like a "Stars in your eyes" take on Spiritualised Doing One. One suspects that Harcourt's heart wasn't in it but it is a very minor blip on what is a consistently good collection of songs.
I have seen the future of Rock'n'Roll. It's not Ed Harcourt but this should not stop you from enjoying "Here Be Monsters".