Diana Krall
A review of the album 'When I look in your eyes'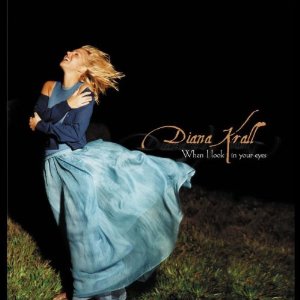 I heard about Diana Krall from an American friend while living in Spain. On my return I got the album "All for You" - a dedication to the Nat King Cole trio - and was hooked. For anyone who understands the sensuality of food then "Frim Fram Sauce" could be their theme song.
Her latest CD 'When I look in your eyes' would be worth buying for its beautiful CD case alone. Lots of pictures of Diana and sunlight on tumbling waves with the CD cover opening up to reveal a little booklet with song titles and dedications. One of the prettiest cases I've ever seen.
Fortunately you'll realise there's a whole lot more to this when you slip the CD into your player. Diana Krall is a gifted singer and pianist who, fortunately, will be visiting our shores in December. On this album she gives some classic jazz and blues tunes her own unique twist such as "Let's face the music and dance", "I can't give you anything but love" and "The best thing for you". Cole Porter's "I've got you under my skin" has never sounded so seductive.
Diana has a velvety voice that creeps into your head and heart until you just melt into its deep warmth. The swishing of the drums and the delicate strains of the violins give added depth and richness to the songs. On some of the tracks she is backed by an orchestra. But above all it's the combination of her fantastic piano playing and evocative voice that makes this record so outstanding.
This is an album to listen to when lying on your bed dreaming of love or when snuggled up in front of a blazing fire. Her voice has an amazing range and there are a enough fast and slow songs on this to keep everyone happy. And once you listen to this you will be happy.
Indulge yourself and buy it.

Diana Krall's 'When I look in your eyes' can be bought from Amazon at a special rate by clicking right here.


Check out our other articles on the Irish Jazz Music Scene.