David Gray
A review of his album 'Lost Songs 95-98'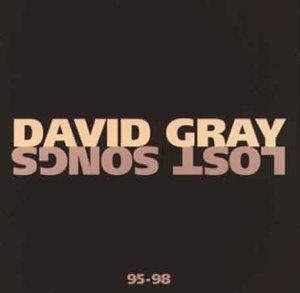 'Lost songs' is an acoustic-style collection of tracks that endeared me and many of David Gray's Irish fans to his music in the first place. Of course the cynics are out in force, claiming that the album is nothing but a haphazard collection of second rate out-takes, released to keep the Irish contingent happy while David is busy touring 'White Ladder' beyond these shores. This could not be further from the truth. 'Lost Songs' is an album for the fans. It is a return to the mood of David Gray's first three albums. For anyone who appreciates the beauty of songs such as 'Shine' and 'Falling Free', this album is a must.
As on his early albums, the acoustic setting really does Gray's voice justice and delicate guitars and pianos provide the base for eleven very beautiful songs. The age-old themes of love and loss are back with a force and as with most of David Gray's songs, the lyrics are central. This album will not provide background music, the songs draw you in and require you to listen. The album is quite different to 'White Ladder' both in mood and content. It is very mellow in tone, and is not commercial at all. It is unlikely to win David Gray many new fans.
Anyone who has seen Gray live over the past few years will recognise some of the songs included here. The tender 'Falling Down the Mountainside' has been present in the live set for a long time, as have two of the sweetest songs I've heard in an age, 'Twilight' and 'Hold On'. There's some songs I haven't heard - including the angry 'Red Moon' and a fast paced tune called 'A Clean Pair of Eyes', which begins like a Tom Waits tune. There's also a gorgeous instrumental called 'January Rain'. The highlights of the album for me come in the form of 'Flame Turns Blue' and 'If Your Love is Real'. Both are heartfelt, delicate songs and from the latter comes an example of the brilliant lyrics found throughout 'Lost Songs' - "I know if I should live 100 years / I'd never see another face like yours / on stranger seas or brighter shores / cause I know that my love is real".
Overall 'Lost Songs' is a short, sweet gem of an album, and a real treat for the fans.
Niamh Grimes

To buy a new or (very reasonably priced) 2nd hand copy of this album on Amazon just click here.