Crashland
A review of the album 'Glued'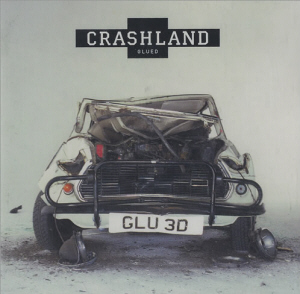 Crashland are a three piece from Bristol who got together in late '97. They have recently toured the UK with Symposium and Toploader and have upcoming dates in November and December with Reef. 'Glued' is the band's debut album and is twelve tracks of adrenaline-fueled power pop which is all a little predictable, but enjoyable nonetheless. Indie they are, with obvious reference points being the like of Stereophonics and Placebo.
The current single and first track 'Modern Animal' rings of the Pixies, with plenty of hooks and a catchy chorus. Unfortunately most of what follows is very similar in style to the opener. The majority of the tunes stick to the tried and tested quiet verse / loud chorus format and, while they are good tracks individually, as a collection they seem a little monochrome. There is nothing off the beaten track and no risks taken. It makes for a welcome break when the songs do differ a little - 'Submission' and 'Little Dreams' are two minute punky blasts. Really though, the reason they are welcome is only because they are a little different to the tracks before them, not because they are great songs. There are also a couple of quieter moments also, namely 'Swinger' and 'We're on Fire'. On these tracks the vocals are clearer and guitars less frantic, but the songs don't really go anywhere.
Crashland seem to be trying to write great pop songs but they haven't written that killer tune yet. A fairly mediocre debut album, decent enough but not terribly exciting.
Niamh Grimes