Clive Barnes
A review of his album 'Goldtooth Cinnamon'
I first heard Clive Barnes when my Rabbi of Rock, Ronan @ The Unmistakable Sound Record Shop, played me 'Live At The Spirit Store' in 2003. Two words. Blown. Away. At first, I was sure that what I was hearing was a veteran American musician from the Deep South who had made his home in Ireland. When Ro' told me that Clive was in his twenties and hailed from Enniscorthy in the Sunny South East I remarked, "So what did he do to be able to play like that? Sell his soul to the Devil at the Crossroads?" There was a long silence, punctuated only by the sound of Clive's shimmering guitar licks coming from the speakers in Ronan's music shop, then Ro' replied, "Jules, Enniscorthy is a crossroads". You find the Blues in the strangest places.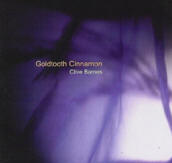 Clive Barnes is the real thing. He has talent with a capital T. Raw, undimmed, shining, electric, diamond hard talent. Although it would be easy to pigeonhole him as a Blues man, Barnes is first and foremost a Rock 'n' Roll guitarist in the mould of JJ Cale, although Clive himself prefers to aim in the direction of musicians like Keith Jarrett. He reminds me of that laconic Dubliner Dr. Louis Stewart, now regarded as one of the world's finest jazz guitarists, who combines a quiet yet confident manner with the peerless ability to make his guitar talk.

Clive has refined his musical gifts through constant touring with musicians of the calibre of Solomon Burke, Blind Boys of Alabama, The Holmes Brothers, Bert Jansch and David Crosby and says that, "It's taught me how to hold a large audience". For people like myself, who have long since grown tired of the much hyped mediocrity of a cluster of Irish acts who have gone the 'acoustic' root, Barnes is a big bag of fresh vibes. He really can play, he really knows his musical heritage and he works very, very hard to be the best he can be. No partying until dawn in Renards for four years between albums for him. Oh no, 200 gig dates a year, every year, primarily in the USA. As if that isn't enough, Barnes augments his musical studies with close reading of authors such as Sam Shepard, Paul Bowles and Raymond Carver in much the same way as Bruce Springsteen devotes himself to the work of Flannery O'Connor and John Steinbeck.

His third studio album 'Goldtooth Cinnamon' has just been released on the Leander label and it is a Thanksgiving firecracker. What is particularly exciting is that Barnes cut the entire album live in studio in five days with a crack team of Irish musicians such as Paul Kelly and Dave Hingerty. He used no overdubs and drew the final track list from different versions of the songs he had recorded. The record is a major leap forward from his sophomore offering 'Welcome to Farewell' which won 2002 Acoustic Guitar Magazine Home grown Album of the Year.

Rolling Stone editor David Marsh once wrote that, "The best rock song writing has always been heavily populated. In the space of a few lines, subtle characters live full lives. In that sense, the best rock writing is authentically cinematic, suggestive rather than elaborative". This is true of Springsteen, Waits, Reed, Cale, Dylan and Barnes himself.

Barnes' world is one of backwater towns, railway tracks, box cars, drowsy afternoons, tall grass, ribbon roads, green water, asphalt, willow trees, sheltered valleys, cold winds, dark rivers and Harrison Hill. It is a perfectly formed place, drenched in loneliness and desperation. Its characters trapped for eternity, praying for release in the suffocating heat from the heavy weight of their unfulfilled passions. Clive sings of, "St Peter with a ghetto frown / Wipes his hands upon the ground", or, "And how her back would break beads of sweat / When he touched her breast", or, "The boys in the backroom / chew toothpicks soaked in cinnamon". Nowhere is this sense of a fictional yet coherent landscape more apparent then on the album's centre piece 'Bloodshot Soul' where Clive tells a fable concerning the whiskey soaked, gun toting, jealous passions of a cast of mythic characters with names like Brother Jay, Judas Kane, Penny and Dove. Elsewhere on 'Kitty Twist', his slide guitar conjours up the sights and smells of Southern America, where the shady groves give way to withering pines and the singer is tortured by the mysterious disappearance of a femme fatale called Kitty Twist.

Overall, 'Goldtooth Cinnamon', works more as a collection of interconnected short stories, narrated over a muscular and spare guitar driven soundtrack, than it does as a simple collection of tunes. Indeed, you could almost imagine film credits rolling over the final track, 'Drowning a River'. This thematic cohesion is one of the album's achievements and, considering that Barnes recently stated in interview that, "The ability to paint a very vivid landscape of ordinary people in extraordinary places has become hugely important to the songs", it is also something of a personal triumph for the artist himself.

In some ways, Barnes doesn't really belong within the confines of Irish music, so American is his landscape. Indeed, the reference to cinnamon in the album's title points directly to Kentucky where the spice is something of a culinary passion to the inhabitants. There are some who would wonder at this love of Americana, but I think you should take an artist on their own terms and not try to impose on them your own tastes and prejudices. If Barnes seeks to delineate a world more familiar from the novels of Pete Dexter than those of James Joyce, then so be it. It's his world, we are just visiting.

On this record, Barnes has eschewed flashy guitar solos and ornate arrangements in order to allow his characters take centre stage. His deadpan vocal delivery makes the lyrics sound like whispered threats. His steel guitar serves the songs rather than dominates them. The low key production on 'Goldtooth Cinnamon' is reminiscent of Springsteen's, 'Ghost of Tom Joad', and certainly, no matter how much you turn up the volume control, the record still sounds quiet. Overall, Barnes has crafted a rich slice of Southern fried sound.

By the way, I have just returned from the United States where The New York Times has pronounced that the recent Yankee interest in maudlin, navel gazing, emotionographic folkies is waning and being replaced by an upsurge in Americana tinged song writing and blues influenced rock. It looks like Clive Barnes may just be about to take that long distance walk with a guitar that he learned how to make talk.

Jules Jackson

Check out our other articles on the Irish Jazz Music Scene.