Christy Moore
A review of his new live album 'Live at Vicar Street'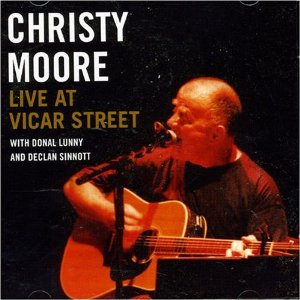 For anyone who has been unable to get tickets to see Christy Moore with Donal Lunny and Declan Sinnott in recent months, you've the opportunity to capture some of the emotion and atmosphere that you missed, on his new 'live album.
Unlike 'Live At The Point' (1994), this album brings together most of Christy's ballads, which is a shame, as I feel Christy gels better with the crowd on his sing-a-long numbers.
This is essentially a covers album with 12 of the 13 songs written by other people, Ewan McColl's 'The First Time Ever I Saw Your Face', Shane McGowan's 'A Pair of Brown Eyes', Wally Page's 'Biko Drum', and the Bobby Sands composition 'McIllhattan' being just some of the songs performed here.
Of the upbeat numbers, there's only the opening track 'Continental Ceili', 'Johnny Don't Go' and the highlight of any Christy performance 'Lisdoonvarna'. This version is worth the purchase price alone. A seven-minute epic that brings you right into the audience in Vicar Street and makes you feel you should be crowd surfing to this one.
'Ride On' is the only song that has made the journey from 'Live At The Point' and the album closes with a tribute to songwriter Noel Brazil, who's death was overshadowed by the passing of George Harrison on the same day.
Having witnessed several Christy gigs in the past three years, this album is sadly only a small portion of one of those gigs. There's only 54 minutes of 'live' music here and while it's the old material that dominates here, it would have been nice to hear some of the tracks from his most recent album 'This is the Day', so many of which were performed at those shows.
Hopefully the rest of those performances will appear on another 'live' album, or on the much anticipated box-set he's been promising us.
Mick Lynch

Click here for a review of Christy Moore live in Vicar Street