Carla Bruni
A review of her album 'Quelqu'Un M'a Dit'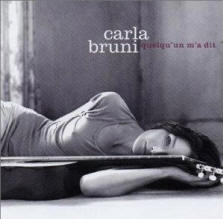 Review Snapshot:
In which our preconceptions of French chart music - dirty old rockers, flirtatious schoolgirls, heavy breathing and groaning - are pleasantly subverted by, of all people, an acoustic-guitar-playing Italian supermodel once linked to, well, a dirty old rocker.

The CLUAS Verdict? 7 out of 10.
Full review:
Until a decade or so ago, the English-speaking world's perception of French music was filtered through two separate experiences. On one hand (literally so for the dirty-old-man demographic) was the titilating perv-pop of 'Joe Le Taxi' and 'Je T'aime (Moi Non Plus)', with their demi-monde of lecherous men leering at Lolitas. The other defining image of French music for most Irish people was the ridiculous leather-clad figure of Johnny Hallyday in their French schoolbooks. French pop was reduced - and deservedly in most cases - to a freakshow of smutty sexploitation and deluded Elvis impersonators.

Today, light years later, French music is to the forefront of pop fashionability. The Parisian electronic scene - Daft Punk, Air, Saint Germain, Mirwais and others - provides the aural furniture for caf? and trendy bars the world over. The reputations of long-ignored icons like Jacques Brel and Serge Gainsbourg have been rehabilitated by tribute acts and namechecks from the likes of Tindersticks and The Divine Comedy. And nowadays the raunchy schoolgirl/randy chauvinist routine comes from English and American teen-pop and R n' B acts who seem to model their videos on The Benny Hill Show.

The most widely and consistently popular album in France over the last year is far from electronica - in fact, it sounds as if it was made by a cloister of Luddite nuns deep in the mythical Land That Computers Forgot. More surprisingly, it's written and performed by an Italian supermodel more known in the English tabloids for a fling with Mick Jagger. Yet 'Quelqu'un M'a Dit' ("someone told me") by Carla Bruni has been a genuine sleeper hit and
word-of-mouth success in France in much the same way as 'White Ladder' or 'O' were in Ireland. Now it has been released in Ireland with the hope of riding the slipstream of Yann Tiersen's successful 'Am?ie' soundtrack. Will Bruni's courtship of the Irish record-buying public have a romantic happy ending too?

Bruni's style is simple. One acoustic guitar strums. Another acoustic guitar picks. A low, velvety voice sighs with yearning and barely raises itself over a quiet, smoky whisper. Perhaps a handy point of reference for an Irish audience would be somewhere between the melodic folk-inflected charm of Katell Keineg and the cabaret swoon of Camille O'Sullivan. The effect is that this album disarms you with its summer-evening mellowness before breaking your heart with Bruni's beautifully sensual croon, quite similar to Beth Hirsch's dreamy vocals on Air's 'All I Need'. The delicate 'Tout Le Monde', for instance, carries a mournful air without ever resorting to histrionics or shallow emoting, while 'Raphael' skips with the tentative happiness of undeclared love.

Then there is the language issue. English - or, to be more accurate, American - is the one and only language of rock n'roll's strut and swagger. French, like Irish, sounds ridiculous and clumsy in a rock setting. However, it is instinctively romantic and sophisticated to the Anglophonic ear and has always worked wonderfully for ballads and torch songs by the likes of Brel and Edith Piaf. So it is with this album. Bruni could be singing about dry-cow mastitis and it would still sound gloriously fragile and dramatic. As it happens, she's singing about love with all the epic, fatalistic grandeur of Brel and Piaf, though in a much quieter and delicate setting. The title track, in which the singer hears that her old flame may still love her, aches with longing and uncertainty, and swirls in a lovely three-four melody. It's a magnificent song.

Bruni's album isn't experimental or innovative. It may be too light and airy for those with a taste for more robust performers, while others may be put off by its inevitable categorisation as 'world' music or simply because the lyrics are not in English. That would be a shame, as Bruni's light melodic touch and strength of feeling are radiantly clear from the music alone. Francophiles and fans of well-crafted singer-songwriting will be smitten by this subtle and charismatic record.

7 out of 10.