Cake
A review of their album 'Comfort Eagle'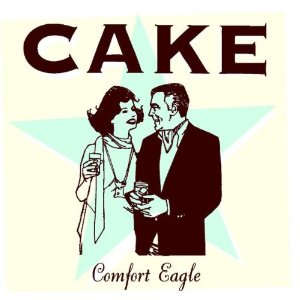 People who take music far too seriously are constantly tracking how a band evolves musically, plotting their direction, citing their new influences, expecting novelty. These people probably hate acts who hit pay dirt with a particular musical formula and stick assiduously to that blueprint. Yet, many are the long and successful careers to followed that pattern, think Metallica or The Ramones. These people will almost certainly detest Cake.
If you have ever listened to a Cake album before, you might as well stop reading now because "Comfort Eagle" is quite simply more of the same. Even the artwork makes it practically indistinguishable from their previous offerings! For the uninitiated, Cake are very much a product of their environment - hailing from Sacramento, the exude west coast laid back stoner/slacker charm with a penchant for what our friends across the pond would describe as "kookiness" (more of the Beck variety than that God awful Aly McBeal version). The music is built around funked out guitar ramblings with a healthy dose of 80's horns and electronica. In many ways, the sound like the bastard son of The Cars and They Might Be Giants or to be more current, Weezer in their playful moments. However, it is John McCrea's vocal styling that'll decide whether you take to Cake or not. His lazy, laconic half spoken/half sung and very deadpan delivery is certainly an acquired taste.
"Comfort Eagle" mixes the sublime and the ridiculous in equal measures. Two tracks "Opera Singer" and "Commissioning a Symphony in C" are plain irritating. If you ever needed examples of how lyrics are integral to a song, here they are. The subject matter is so uninspired and leaden that it feels as if they were written on the strength of a Discovery Channel documentary. There is also the use of a drum machine on "Opera Singer" which detracts even further from the tune.
At the other end of the spectrum are the delightful "Shadow Stabbing" and "Long Line of Cars". Lyrically, they are two of the more pensive and understated tracks, which certainly helps. "Shadow Stabbing" is the most accessible track on the album, replete with catchy hooks, hum along chorus and a feeling of positive levity. "Long Line of Cars" works equally well but in a very different way. The flatness of the baseline and harmonies capture something of the relentlessness of traffic (one of the few things I expect Dubliners and the denizens of Sacramento have in common). Both tracks clearly show a level of care and attention in production sadly missing elsewhere - the depth of percussion on "Shadow Stabbing" is particularly engaging.
But the best is yet to come. It's not often you buy an album where one track justifies the price alone, but for Cake, "Short Skirt/Long Jacket" is that song. A homage to sassy, power dressing office workers the world over, this track is outstanding. It is frivolous, disposable, cheesy and uplifting, everything a classic pop tune should be. I have no doubt that if pushed properly, this could be a monster hit, guaranteed to put a smile on the surliest of faces. If it is success Cake crave, they'll probably throw in the towel if this number doesn't deliver.
"Comfort Eagle" certainly doesn't push any musical envelopes but if you like you beats funky and chilled with a sense of humour, it's probably just your speed. One thing is for sure though; it is effortlessly superior to anything ubiquitous soul/funk peddlers "The Fun Lovin' Criminals" have produced. Kudos to Cake also for adding that most unlikely of instruments, the ukulele, to the rocker's armoury! Sadly, like their previous albums, you are more likely to encounter it in the bargain bin than the charts.
Brian Farrelly

"Comfort Eagle" is released on Columbia/Sony Music