Echo & the Bunnymen
A review of their greatest hits album 'Ballyhoo'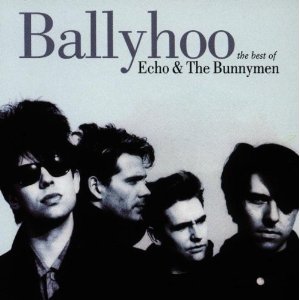 Anyone about to see the rejuvenated Bunnymen on their current tour would do well to make reference to this CD as an indicator of past greatness. McCulloch, Sergeant, DeFreitas and Pattinson were the ONLY band making music of stature and circumstance in the early eighties (Ed: What about the Pointer Sisters?) . Forget the clowning of Julian Cope, the posturing of U2 and the pretentious miming of Simple Minds - the Bunnymen hit the spot.
The first track, "Rescue", chews and spits out Britpop fifteen years too early. "Villiers Terrace", another track from their shining debut album "Crocodiles", shows a dark world of piercing guitars and syringes in squalid Scouse bedsits. A million miles away from Howard Jones. Their second album, "Heaven Up Here", was the hangover from the drug-addled early days. As Ian McCulloch said - "We stopped being a drugs band and became a drinking band instead." The camouflage gear was jettisoned in favour of those long overcoats we all came to love. And the music - more mature, more structured - and brilliant. Listen to "Over the Wall" and "A Promise" - this was self-reflection in 3D, and done with a depth that Morrissey would never achieve. Sergeant's guitars and McCulloch's wailing lyrics made music that didn't dare snivel. The songs didn't ask for pity - they just said "This is how it is." The Bunnymen really hit home with "Porcupine" - album number three and three hit singles. I remember "The Back of Love" on Top of the Pops and can't remember my Father ever being more outraged at a record. "The Killing Moon" saw the band touch on a more tranquil shore - with lush, orchestral production, and McCulloch lazily Scott Walkering his way through one of the greatest love songs ever. "The Ocean Rain" LP saw them at arguably their best - well what do you expect from something that's advertised as "The Greatest Album Ever Made?"
The tragic death of drummer Pete De Freitas in a motorbike accident stopped the group in their tracks. Always a complete band - they always shared writing credits - and De Freitas death was a body blow. They never really picked up the baton again. "Ballyhoo"'s later tracks give their sterling efforts a good airing - "Lips Like sugar", "The Game" and the Ray Manzarek-produced "People Are Strange" - but it's the earlier gems that really stir the soul. The Bunnymen were never an eighties band. It didn't matter which decade they appeared. It's just fortunate that they did.
Bulstrode

To buy a copy of this album on Amazon just click here.


Check out also a review of Echo and the Bunnymen live in Dublin in November 2003.


Check out the CLUAS review of Echo & the Bunnymen's album 'Flowers' (released in 2001).