Bob Dylan
A review of his album 'Love and Theft'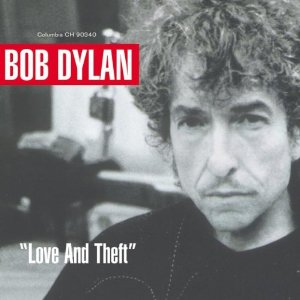 Almost forty years - and many lifetimes ago - a singer wrote that 'he not busy being born is busy dying'. Nowadays when most of his contemporaries have chosen to either rot or retire, Bob Dylan has again decided to go back to the roots, tear it all up, and try to plant it all again.
Unlike many of his re-inventions through the years, "Love and Theft" works. For perhaps the first time in his career, Dylan now rests easily as a member of a five piece band. No longer does the listener's attention automatically focus on the garbled vocal, or distinctive lyrical delivery. To listen to "Love and Theft" is to appreciate the fluidity of Larry Campbell's violins, Charlie Sexton's hushed guitar or Tony Garnier's shuffling bass. In this setting, Mr Dylan is now a fifth among equals.
The music benefits immeasurably from this - the tightness of the ensemble recalls the glory days of the 'Basement Tapes' and his later live work with the Band - leading to the best collection of new songs since "Oh Mercy". The claustrophobia of "Time Out Of Mind" has all but disappeared, it's Spring again (of sorts) and the Bob Dylan Band (as they should now be named) are out to play on this Saturday night.
The prevailing mood of the songs is rural, small town desires and emotions, played up for the Saturday night cornboil. The style of playing is country, even ragtime, but it stretches - "Moonlight" is a mystical diner love song set on a Cole Porter time signature, "Floater" sees the band attempt and conquer the Django Rheinhardt / Stephane Grappelli jazz style, and "Bye and Bye" sounds like it was cut at the Stardust in Vegas sometime in the late 50s.
Between these particular songs, Dylan is pushing all the usual (but re-wired) buttons. "Tweedle Dee and Tweedle Dum" ambles like a tried and trusted old-time melody, "Highwater (For Charlie Patton)" is the history lesson, recalling the life of the long-dead bluesman, and the mood of the country that produced him. On this note, it is immediately clear that a concept of 'the South' - a notion that may be politically redundant but remains culturally pervasive - has influenced Dylan's writing of late.
This is most apparent in "Mississippi" - the most accessible of the new tracks and the one most likely to be dubbed 'the new Dylan classic'. Walking through Southern streets with his companion he sings: "All my powers of expression, my thoughts so sublime / Could never do justice in reason or rhyme / Only one thing I done wrong / Stayed in Mississippi way too long."
This address to the lover provides the theme of most of the songs, and the background settings are the bar-rooms and card tables, where the bootleggers and dice-sharks reign. This ancient Southern culture, drunk on nostalgia, racism and lost potential has heretofore provided a lyrical source for Dylan - "Love and Theft" represents its adoption as a central plank in his songwriting.
Like 'Another Side of Bob Dylan', 'Nashville Skyline' and 'Slow Train Coming', 'Love and Theft' is a break - perhaps it will prove to be the last seismic musical shift of Dylan's career. Four years ago, we believed that 'Time Out Of Mind' would prove his last great record - after listening to 'Love and Theft' that album can only be seen as the final output in an artistic cycle that stretched from the lean mid-80s to the lost confusions of the Never Ending Tour.
Perhaps we could have done with 'Things Have Changed' (which doesn't feature) as the opener but, in light of the other songs, this can be easily forgiven. For the first time in years we have a Dylan looking forward, attempting to regain his reputation as a songwriter composing years ahead of his contemporaries. After 40 years and many recent doubts it's clear that his vision, re-ordered and arranged, is still intact.
As he sings on the album's closing track: 'Can't turn back, can't come back / sometimes we push too far / One day you'll open up yer eyes / and you'll see where we are.'