Boa Morte
A review of their album 'Soon it will come time to face the world outside'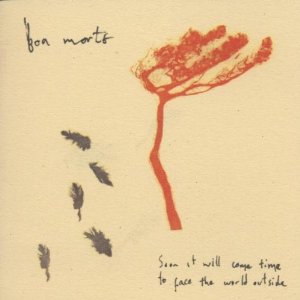 When listening to "Soon it will come time to face the world outside", a superb debut by the Cork based Boa Morte, I was reminded of a solo project undertaken by Mark Hollis, formerly of Talk Talk. Hollis, blessed with a voice to die for, took it into his head to make a solo album full of mood pieces and wistful reflection-the "Mark Hollis" album bombed for two reasons-Hollis forgot that anyone else was going to hear his album and neglected to write proper songs. Worse again, he put together arrangements for his music which were obtuse and wilfully difficult. Needless to say, the album strangled itself and a Hollis follow up is still somewhere in the middle distance.
The comparison is odious but the gifted Boa Morte are currently venturing into the same territory as Hollis, Lambchop, Calexico and a few others, ie Quiet Music, but Big. "Soon it will come time to face the world outside", their debut, is contemplative, tender, delicate, and gloriously undertoned. People, including Boa Morte's minders, give them an American lo-fi country label but this is lazy thinking and an insult to a band that make the guitar/bass/drums/vocals format sound so fresh and distinctive.
Boa Morte write fully formed and beautifully measured songs. Their lyrics are thoughtful but are also leavened with playful irony. Boa Morte's melodies are slender and sinuous and after repeated listens I could not locate a weak track on this album. Highlights abound on this collection-there's the faltering majesty of its opener, "Clarence White", there's the slowburn romance of "Tonight she said", the doleful "Burn" (a surefire comedown anthem), and "December", which is regretful without being mawkish.
"Soon it will come time to face the world outside" is beautifully played. Its production is stripped down and unobtrusive without being undercooked - Paul Ruxton's and Cormac Gahan's vocals fit the songs' moods, the guitarwork is gossamer soft, reminiscent of the Durutti Column, and Boa Morte's rhythm section coaxes each song along to ensure that even though this album's mood is essentially subdued, its tone never gets bogged down.
"Soon it will come time to face the world outside" is a superb debut album from a highly accomplished Irish band.
Melancholia never sounded so good.